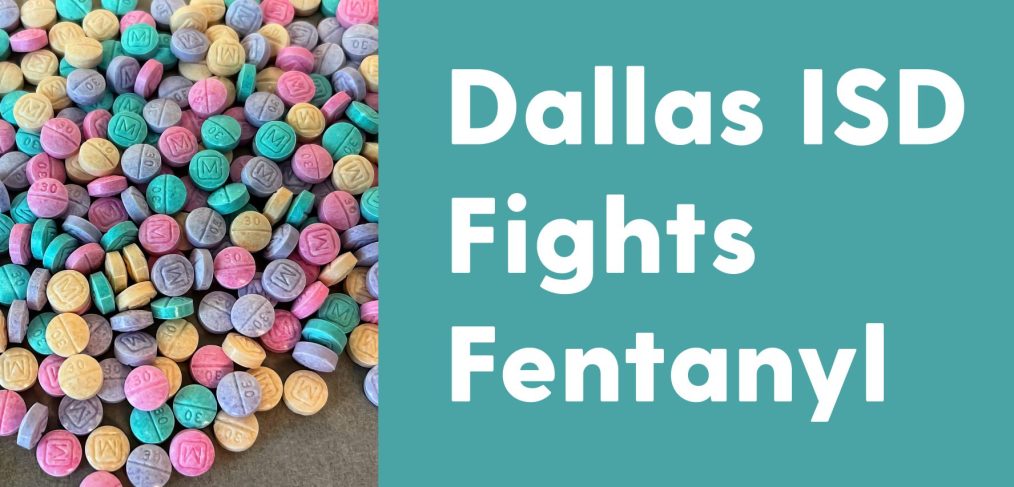 Fentanyl forum offers help combating drug use
When Tracey Brown and other members of the district's Mental Health Services team work with students who are using drugs or other illicit substances, they always go beyond the addiction to see what has caused that child to turn to drugs.
And it is what they want parents and other adults to take away from this Saturday's "Dallas Fights Fentanyl" Parent Education Forum at Yvonne A. Ewell Townview Center. The event, hosted by Dallas ISD, the City of Dallas, and several partner community agencies, starts at 8 a.m. and will offer a variety of resources and expert advice from mental health, parent services, medical, and law enforcement representatives.
"We want parents to understand how to connect with their child and let them know they are listening. This is one of the most effective ways to reach students who are using drugs or thinking of using drugs," said Brown, Executive Director of Mental Health Services. "Our students need to feel a sense of connectedness and belonging to their families and school communities. That connection creates a sense of trust and openness to share their thoughts, feelings, and experiences around drug use and the decisions about whether or not to use drugs. That's what this whole forum is about. We want our parents to know that they are not alone in this fight. Parents, we are with you, we are here to support you and, not just Dallas ISD, all of these agencies who will be joining us on Saturday."
For Deborah Purge, who manages the Seagoville Youth and Family Center, information is key to help parents connect with their children and keep them from drugs like Fentanyl, a prescription drug that has been turning up more and more in illicit drugs in concentrations high enough to be deadly.
"Kids are hurting and facing situations that are difficult for them, and they turn to drugs as a way to cope," Purge said. "In Dallas ISD, we focus on the whole child. We work with families to recognize what issues are impacting the children's ability to learn and address them with their families."
Dallas ISD has one of the largest comprehensive mental health services programs in the country with the goal of eliminating the disparity gap in access to services that many communities of color encounter, Purge said. This weekend's forum is one more avenue to help families find resources to help their children establish positive and constructive ways to cope with what they are facing.
"It's important for us to help kids understand they have the power to make decisions that will help them feel good about themselves and their choices in life. We want to help them identify healthy coping strategies to deal with the many stressors and pressures they experience in life," Brown said. "Children don't realize they are in the decision-making process all the time. We want them and their parents to know we are here to help them walk through the journey of life and they are not alone."
The parent forum will focus specifically on informing parents about fentanyl and ways to  prevent overdoses through education (prevention), to intervene by offering mental and physical health services (intervention), and to get back on track if drugs become an issue of concern (interdiction). 
"Many times parents are at a loss and don't know how to talk with their child about these kinds of serious issues," Brown said. "We want to equip them with the knowledge, skills, and resources to connect with their child and prevent substance use and unintended overdoses from this deadly drug."