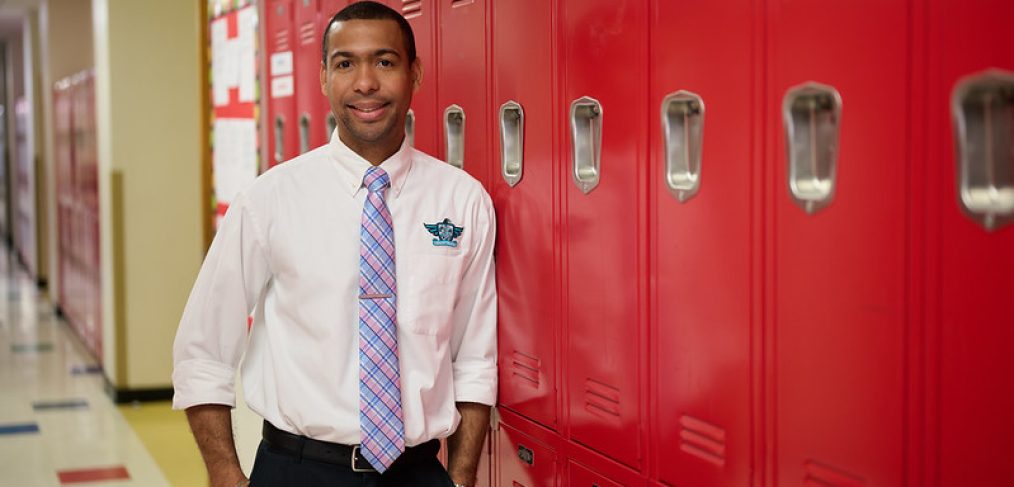 Transforming student lives through state task force
When Josué Tamárez Torres, a master teacher at César Chávez Learning Center, was appointed by the governor to serve as the chair of the Texas Education Agency's Teacher Vacancy Task Force, he said he was driven because the TVTF's mission to develop recommendations that will improve the teaching experience in Texas felt "personal."
Tamárez Torres grew up in the Dominican Republic in a low income family and said his parents always emphasized education as their children's "way out of poverty." They later immigrated to the United States, where Tamárez Torres discovered his passion for teaching while tutoring students from similar backgrounds as his own, joined Teach For America and found a new home in Dallas. 
"I became a teacher to show my students what is possible," Tamárez Torres said. "It's possible to come from a low income family and still be successful, it's possible to overcome poverty and it's possible to succeed in life. When a teacher leaves the classroom, the students in low income communities are usually the students who suffer the most. That's why I said yes. I want to be part of the solution."
The TVTF met every other month for a year starting in 2022 to conduct research, consult with experts and define high-priority, actionable recommendations that would have an immediate impact on teacher retention and, by extension, student achievement across the state. 
The task force identified three overarching areas for state legislators and decision makers to target: compensation, training and support, and working conditions. Tamárez Torres said each category and their branching recommendations are meant to be implemented together with a "holistic approach."
For example, Tamárez Torres said if decision makers increase teacher salaries without creating a supportive environment for teachers, or if they develop support systems without incentivizing teachers to put in the necessary work to be successful, the vacancy rates would continue because the change would only fix a piece of the problem. 
Now that the TVTF has completed its final report, Tamárez Torres and the other members are working hard to spread the word. They have been sending letters to legislators, meeting with teacher unions and educator preparation programs and testifying before Congress in addition to supporting their own students and campuses. 
Tamárez Torres is encouraging families and team members across Dallas ISD and beyond to get involved by contacting their state representative or senator through an email or phone call to ask them to fully fund Texas public schools, which would include a pay raise for teachers and all team members. 
"This is not just about teachers in Dallas ISD," Tamárez Torres said. "This is about all teachers in Texas because we care about every single student in Texas. Behind each teacher, there are 27, 25, 17 little faces who deserve and need all the help they can get, especially after the pandemic."
To find out who your legislator is, visit https://wrm.capitol.texas.gov/home. To read the full TVTF report, visit https://tea.texas.gov/sites/default/files/tvtf-final-report.pdf.