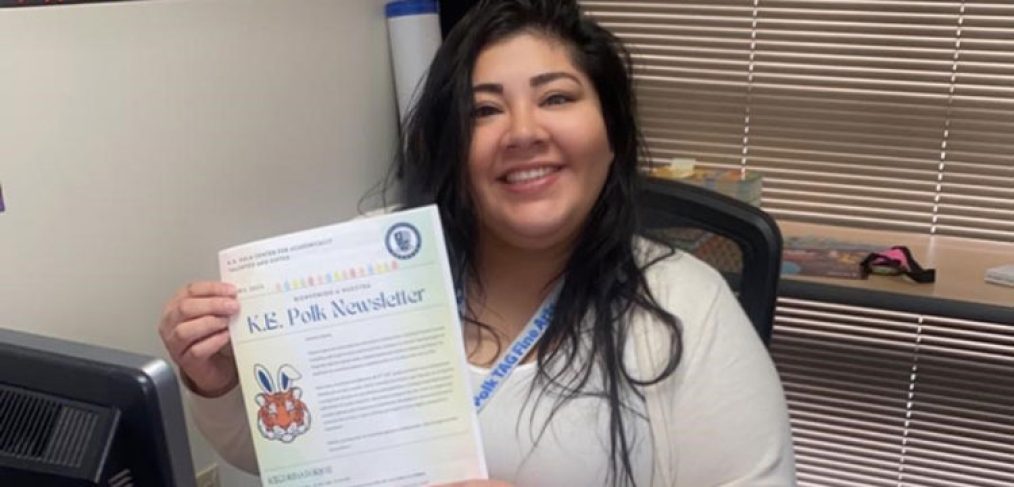 Thank your administrative professionals
They support office environments, manage clerical work, communicate with clients, make sure everyone gets paid, and more to keep day-to-day operations running smoothly. And on April 26—National Administrative Professionals Day—their contributions are celebrated and appreciated everywhere. 
Dallas ISD is home to a variety of administrative teams across campuses and departments, and their Core 4-driven work is critical to the district's mission of educating all students for success. 
Financial clerk Vanessa Gutierrez wears many hats to support her team at K.B. Polk Center for Academically Talented and Gifted, and she said she loves what she does. Each day, she comes to work with a smile in place, ready to provide fast, flexible customer service to anyone who needs it.
"I'm super friendly," Gutierrez said. "That's just how I grew up. My mom and my brother work for Dallas ISD as well, and everybody knows us as always smiling. I do my best to always be positive and have a good attitude, and I feel like the students and the team see that, and it makes them feel more comfortable."
Gutierrez, who first came to Polk as a teaching assistant in 2018, can often be found helping with arrival and dismissal, creating the school's newsletter, communicating with parents and the community, scheduling tutoring sessions or field trips and getting the word out about the fine arts magnet's upcoming shows and events. 
While her weeks often get busy, Gutierrez said it is worth the effort to help keep Polk on track and contribute to the front office's positive environment. Her hard work has not gone unnoticed, according to Berta Alvarado, Polk's office manager.
"Ms. Gutierrez works in the front office applying the Core 4 every day when communicating with parents and campus team members," Alvarado said. "She deserves to be recognized for her commitment to creating a welcoming atmosphere for all visitors and volunteers, as well as for her dedication to our team and willingness to go above and beyond to complete a task."
But for Gutierrez, it is all in a day's work as an administrative professional. 
"Our office team does a lot behind the scenes that isn't always known, but it is noticed," Gutierrez said. "We make sure each day runs smoothly, whether a teacher needs coverage, copies or help with a student. They know they can give us a call or send a student down, and we will make sure they have everything they need. We're here for them."