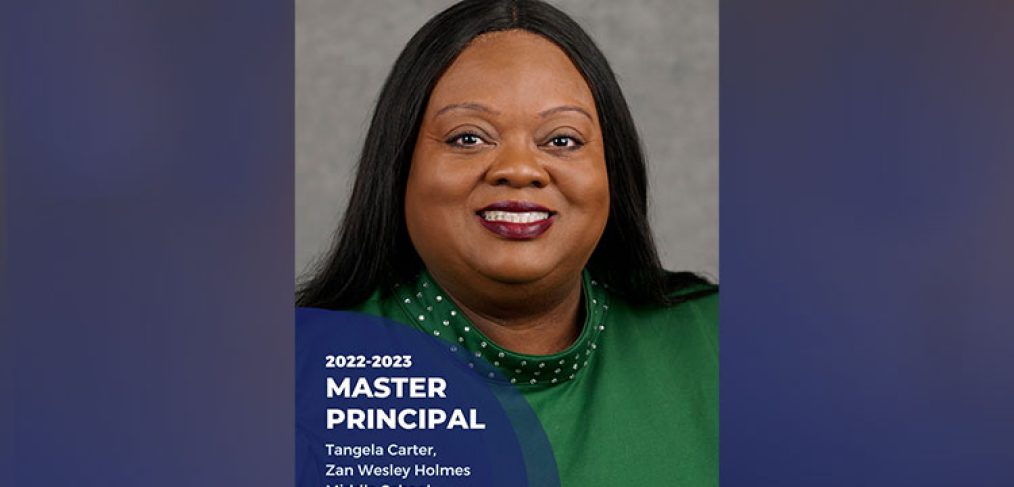 Meet Master Principal Tangela Carter
Education has always been a priority for Master Principal Tangela Carter. She said she was born and raised in Dallas and attended schools in both South Dallas and Pleasant Grove, including H.S. Thompson Elementary School, Annie Webb Blanton Elementary School and W.W. Samuell High School. 
She graduated as the first African-American salutatorian from Samuell in 1991, while her sister graduated as the first African-American valedictorian from Samuell in 1992. Carter began learning Spanish at home from her father, who was a construction superintendent for the City of Dallas. 
Carter has since spent 20 years working in education as a bilingual teacher, assistant principal, elementary principal, director of ESL and Newcomer Programs and currently as principal at Zan Wesley Holmes Jr. Middle School. Previously, she worked as a parole officer and a probation officer in Dallas. She is also a 30-year member of Sigma Gamma Rho Sorority, Inc. and is a charter member of the Nu Iota Chapter at the University of Texas at Arlington. 
Thanks to her determination, passion and expertise, Carter is among the more than 20 Dallas ISD principals to be awarded the Master Principal designation for the 2022-2023 school year. 
These designations are awarded annually to the top 10 percent of Dallas ISD principals in three categories: neighborhood elementary schools, neighborhood secondary schools, and choice schools, and Carter said she is proud to be leading her "legendary" campus community. 
What drew you to education? 
As a parole officer and a probation officer, growth with clients was limited. Many of the people I served/monitored had high school diplomas but could not read or write. I switched to education to catch children on the front end of their lives. Education is a game changer for all. 
What qualities make a great principal? 
The qualities that make a great principal are integrity and knowing that everyone has value. 
What is your educational philosophy or a motto by which you work? 
The motto by which I work is, "Effort is good, but results are better!"  
What inspires you about your position? 
The potential that our students, campus team and community have inspires me daily. Day by day, we get to see and participate in the growth of our future leaders.