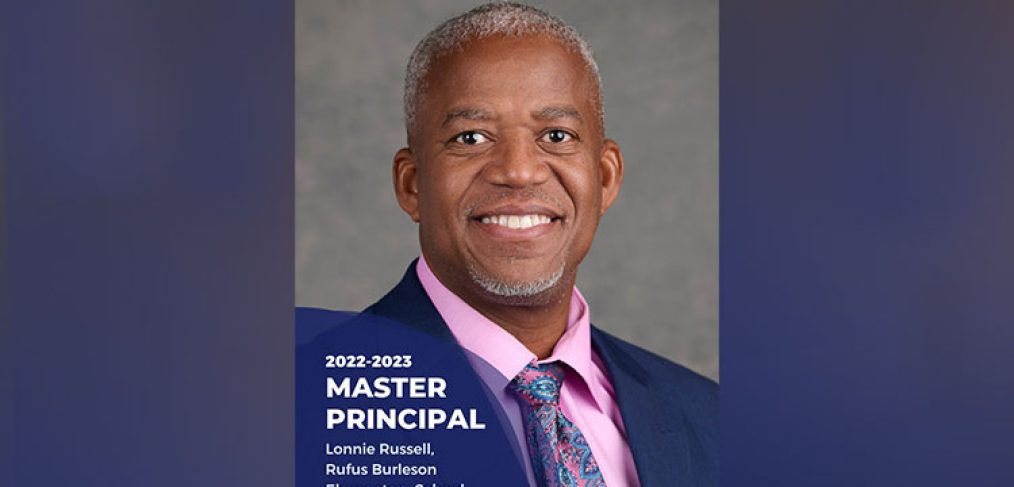 Meet Master Principal Lonnie Russell
For Master Principal Lonnie Russell, the decision to pursue a career in education was a clear one. Originally from Brooklyn, New York, he said he was inspired by his cousin, Eboni Russell, who is still "an amazing teacher," to enter the profession to make a positive impact on students' lives.
Now, 16 years later, Russell said he is proud to call Rufus C. Burleson Elementary School home and to be among the more than 20 Dallas ISD principals who have been awarded the Master Principal designation for the 2022-2023 school year. 
These designations are awarded annually to the top 10 percent of Dallas ISD principals in three categories: neighborhood elementary schools, neighborhood secondary schools and choice schools. The awards are part of the Theory of Action, which governs how Dallas ISD makes decisions that ultimately impact student achievement, and Russell is sharing his thoughts on leading a campus to excellence. 
What drew you to education? 
I wanted to make a difference in the lives of students and in the communities I serve. I am thankful for my cousin, Eboni Russell, who encouraged me to get started on this transformational journey. 
What qualities make a great principal? 
I really care about people. Leading Burleson Nation has been an amazing experience and has given me countless opportunities to hone my leadership strengths and mindset. I am proud of my team's service and commitment to the Burleson Nation students and community!
What is your educational philosophy or a motto by which you work? 
Ensuring the success of every student, every team member, every day. Burleson Nation went from an "F" to a "B" and from no distinctions to four distinctions. Our goal is to have an "A"mazing year with all six distinctions.
What inspires you about your position? 
I get to build relationships with the best students and team members in Dallas ISD and beyond. The present and future of our Burleson Nation students are very bright.