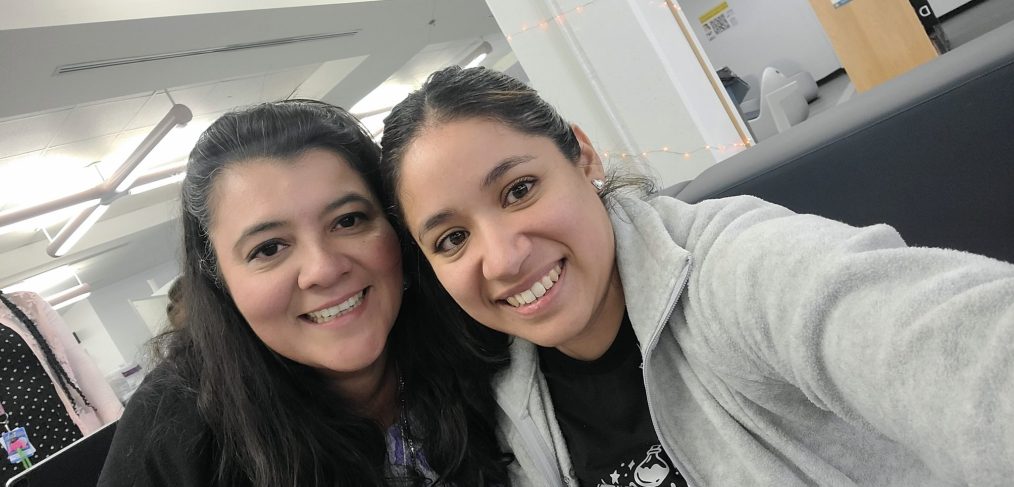 This Is Home: Media specialists reunite after years apart 
Supporting each other and paving the way for student success are integral parts of Dallas ISD's culture and the work educators do every day. For two librarians, this work also has been a journey of discovering new careers and rediscovering their friendship. 
Louise Wolff Kahn Elementary School's Brenda Vargas and Henry B. Gonzalez Personalized Learning Academy's Yolanda Rosa first met in January 2012 when Vargas took a long-term substitute position at Kahn. Vargas said Rosa "took me under her wing right from the beginning" and became first her mentor in the classroom and then her good friend. 
"I started at Dallas ISD 24 years ago," Rosa said. "I was the young one, and I was on a team with veteran teachers. They taught us how to work together. We all helped each other, and I learned something from each and every one of them. So with Ms. Vargas, she was young and she wanted to learn and she wanted to help her students, and I loved that about her. I learned from her, and she learned from me." 
They taught together at Kahn for a few years before Rosa moved to Edwin J. Kiest Elementary School, but the connections she built at Kahn did not fade. Inspired by Kahn's librarian at the time, Nancy Cheyne, Rosa decided to follow in her footsteps and has spent the past seven years as a library media specialist at Kiest and now at Gonzalez. 
While Vargas and Rosa lost touch during those years, Vargas soon embarked on her own journey to become a library media specialist, also inspired by the colleague she and Rosa still call "Mama Cheyne." Vargas earned her master's degree and continued to work at Kahn as a teacher for a few more years until Cheyne retired in 2021 after more than 50 years of service. Vargas stepped forward to fill the open position. 
Rosa and Vargas had no idea they had been on such similar journeys until this past fall. They had both joined the second cohort of Project READ to further their knowledge of library research, exploration, application and design, and they stumbled upon each other at a training. 
"I saw her from behind, just the back, and then she started talking," Vargas said. "I instantly thought, 'I know who that is.' As soon as we got a break, I went up to her, and it was like we were never apart." 
They have been talking ever since, sharing their experiences and what Vargas called the "joys that come with being a librarian." Being a media specialist is something that Vargas loves, but she said it can be difficult to be the only one in the role on her campus. 
That is why these ongoing friendships and connections throughout the district mean so much to both Vargas and Rosa. As Dallas ISD library media specialists, they said they love coming together and supporting each other through the ups and the downs. 
In Rosa's words, "We are all learning together. We can only get better."