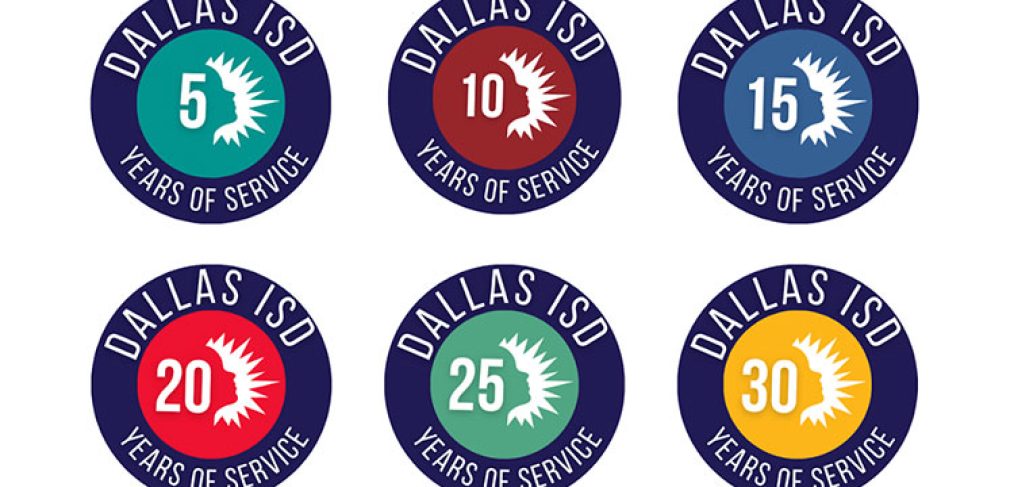 Celebrating years of service
Thousands of team members have called Dallas ISD home for years, even decades, and the district will recognize their commitment to the Dallas ISD community with a new Service Recognition Award program.
Human Capital Management is leading the effort to honor over 13,800 employees who have worked for the district for at least five years with a service pin this spring. In addition, a special award will be presented to those who have dedicated at least 35 years to the district at the Lifetime Achievement Reception on May 9, 2023.
Eligible team members will receive a service pin at anniversary milestones in five-year increments, and 2023 honorees will receive the service pin corresponding to their most recent five-year milestone. For example, team members who have worked in Dallas ISD for 19 years will receive a 15-year pin this spring. A table with milestones corresponding to the awards is available on the program's website. 
Team members may verify their years of district service using instructions provided on the Service Recognition Awards website through March 31 at https://www.DallasISD.org/ServiceAwards.
Campuses and central administration departments will receive a package with a roster of eligible employees, a toolkit with instructions, and service pins by early April. Award distribution should occur before the end of the 2022-2023 school year. Campuses and departments are encouraged to distribute the pins at a time when their teams can gather to celebrate.
Team members are encouraged to share their celebrations online using the hashtags #DallasISDcelebrates and #DallasISDservice across all social media and tag the district.
For more information, contact the Onboarding & Retention team at Recognition@DallasISD.org or 972-925-4080.