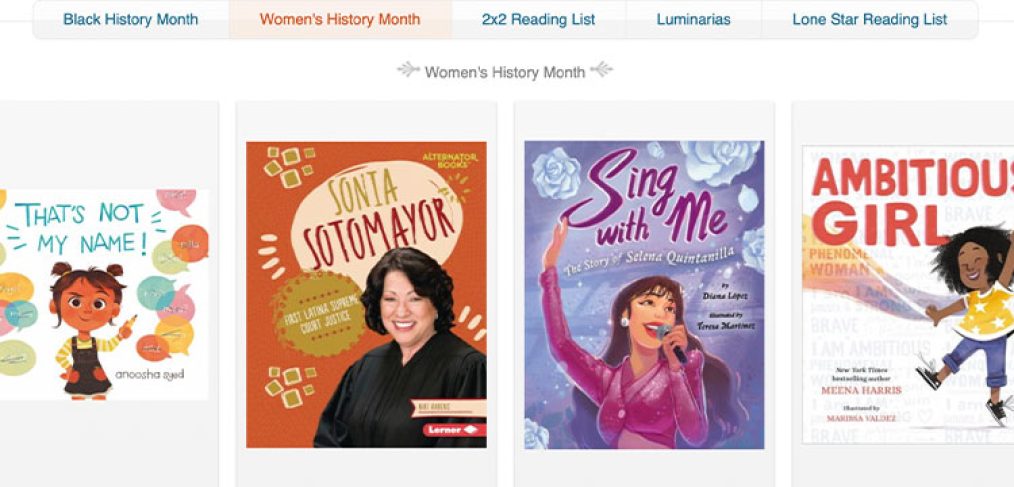 Celebrate Women's History Month with free e-books
What better way to observe Women's History Month than reading and learning about the countless contributions women have made throughout history. Free e-books and digital resources are only a click away—for students and district employees—through Dallas ISD's Library and Media Services Department.
Any Dallas ISD employee and student has access to the free e-books and resources that are offered through the district, said Patricia Alvarado, director of Library and Media Services. Team members can toggle between e-books available through Dallas ISD Library and Media Services and the Dallas Public Library by using their employee ID. 
One of Alvarado's favorite figures to celebrate and read about during Women's History Month is Selena, who was from her hometown of Corpus Christi. 
"Selena represents culture, strength, and exemplifies what it is to persevere," Alvarado said. You can find e-books about Selena and other figures such as Dolores Huerta, Fannie Lou Hamer, Rigoberta Menchu, Clara Barton, Sylvia Mendez and many others available through the district's online catalog.
Dallas ISD team members can access the free e-books available through the district and the Dallas Public Library by visiting the Dallas ISD library catalog at www.youseemore.com/dallasisd. 
To log into your account, the user name is the employee ID number. Use a leading 1, 10 or 100 to make the user name seven digits if necessary. The password is the last four digits of your employee ID number. For students, the username is the student ID number, and the password is the last four digits of the student ID number. 
One of the important reasons for offering this service to students and team members is to support equity in the district. 
"We're trying to remove that equity imbalance that exists. Through the district, students and team members can download books to their phone or other devices for free. We encourage everyone to take advantage of these services for Women's History Month or anytime throughout the year," said Alvarado.