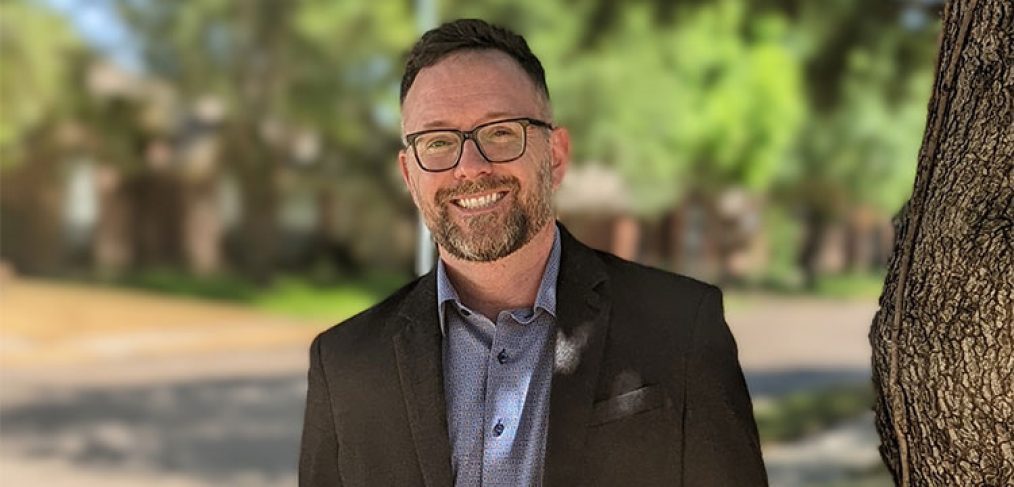 Award winner helps students thrive
After working in business and finance, David Newhouse knew he wanted to do something he felt would be more impactful and remembered the difference one of his teachers had made. Now in his eighth year of teaching, he strives to motivate and encourage students at Thomas Jefferson P-TECH. 
It was the commitment and passion to his craft and his students inspired by his teacher that earned Newhouse a 2022 Teacher of the Year Award from the Rotary Club. He was one of three winners recognized this school year. 
Newhouse has been teaching Advanced Placement human geography and world history at Jefferson P-TECH for the past six years. Before that, he taught at Francisco "Pancho" Medrano Junior High School.
His students can attest to the impact he has had on their lives. Eimi Cabrera, a first year college student at George Washington University in Washington, D.C., said it was Newhouse who helped her on her journey to college. 
"He taught us that even if we are where we are at that moment, we can strive to be better no matter who we are. We can fight for more than what we already have," Cabrera said. "He really wanted us to do better and strive for a better future." 
Newhouse knows that being a teacher can transform a student's life, which he finds to be one of the most fulfilling things about his career. 
"Not all of my students have positive affirmations in their lives, and they don't have someone telling them that they're proud of them," he said. "Even just small celebrations can change the demeanor and the direction of a child. Even saying 'I'm proud of you,' can make a significant impact." 
Many of his students who have gone off to college have told him that they remember specific moments when he uplifted them or when he talked about all the things they needed to be successful. 
"Those are the pivots," Newhouse said. "Those are the moments if you're honest and compassionate, and you're sharing your feelings instead of being this stoic male figure. If you're able to express yourself, the students feel empowered and loved and go on to do amazing stuff." 
Some of his former students have stayed in touch with him. Cabrera is one of them and credits him with helping her get through some challenging situations. Coming from a diverse district like Dallas ISD, she struggled at first with being one of the few students of color in a university that is predominantly white. Her former teacher's advice made all the difference in the world. 
"Mr. Newhouse said that there's always a place where one may feel out of place, but it doesn't mean that I don't belong here," she said. "It means that I fought harder than the other people who were there, and that it should make me feel even more proud of myself. I'm first generation, so I'm the first in my family to go through this." 
Newhouse feels that the way he teaches history, going beyond "here's a border, a name and a date" to bring first-hand accounts and other information that highlights the gritty and sometimes awful aspects of history helps him stand out.
"Reality is a lot more interesting than what we are taught," he said. "But if you dig a little deeper you realize 'wow this is crazy' and you get into the stories, and you realize there is so much more."
History games are another way that Newhouse keeps his students engaged. 
"Mr. Newhouse always made history fun and interesting," Cabrera said. "He knew how to talk to the students and how to help us relate to him. He's impacted my life for a very long time, and he's one of the reasons why I was able to attend college here. He always made his classroom feel like a safe place."