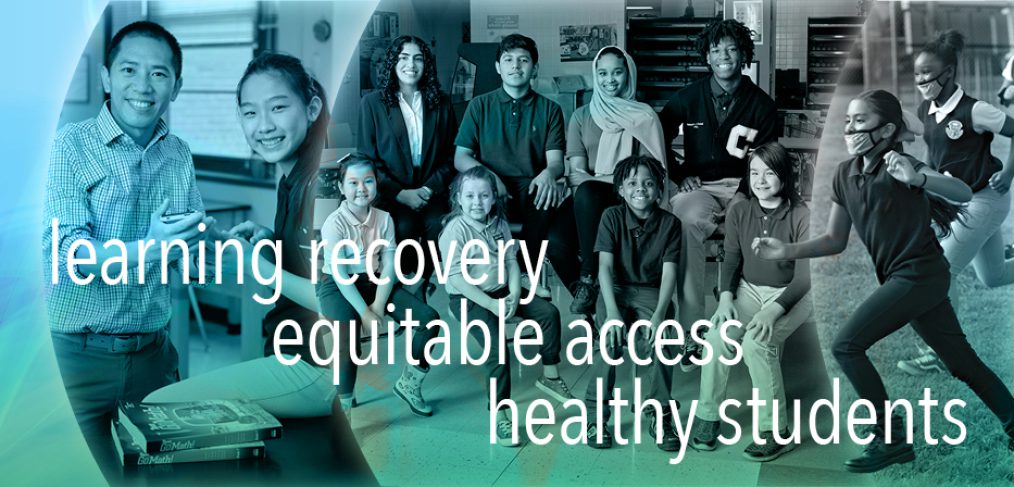 ESSER Update: Reset Centers transform discipline in Dallas ISD
Dallas ISD has taken a positive step toward restorative justice by replacing out-of-school and in-school suspensions with 52 innovative Reset Centers that are focused on teaching middle and high school students appropriate behaviors and responses. The centers launched in August 2021 amidst the COVID-19 pandemic and have contributed to an overall reduction in discipline referrals ever since. 
Jameile Choice, executive director of Student Engagement and Support, said discipline referrals have been reduced districtwide by 23 percent from fall 2021 compared to fall 2022. 
As for the 52 Reset Center campuses, they have seen discipline referrals decrease by 22 percent from fall 2021 compared to fall 2022. Those 52 campuses have also seen a 32 percent decrease in student recidivism—the number of students referred to Reset Center more than once—in that same time period.
According to Choice, overall, elementary, middle and high school student referral recidivism, regardless of consequence and offense, has been reduced by 42 percent, and by 43 percent at Reset Center campuses, from fall 2021 compared to fall 2022. Additionally, the number of referrals for fighting is down 38 percent districtwide and 41 percent at Reset Center campuses. 
Choice said one of the biggest challenges in implementing the Reset Centers has been shifting people's mindsets from a traditional discipline approach, which relies on direct consequences, to a more holistic one. 
"So many of our students within Dallas ISD are acting as adults outside of school, and when you're acting as the adult in the household, there's no one teaching you the appropriate ways to respond to conflict or how to manage your emotions," Choice said. "The Reset Centers teach students these necessary survival skills that aren't traditionally taught in the classroom, and they are equipping students to interact with people from all walks of life and to appropriately respond to conflict when their initial thought is fight or flight."
Rolling out the Reset Centers was no easy feat. Each one required high-quality staff, furniture and professional development training, all of which were supported through an allocation from the Elementary and Secondary School Emergency Relief (ESSER) fund. The multiple-year initiative received $21 million in ESSER funding. Approximately $10 million have been used so far, and about 5,500 students have been referred and/or self-reported to a Reset Center since August 2021. 
When students are referred to Reset Centers, they go through different lessons based on the specific behaviors that brought them there. However, the overarching objective is always rehabilitation. 
All students use a social and emotional learning app called Rhithm when they arrive so their Reset Center coordinators understand how they are feeling and what approaches might work best. The students then go through various virtual modules on topics like drug prevention and fighting to gain knowledge about disruptive behaviors. They also write reflections on their behavior and what they could have done differently, get general classroom support and practice other restorative techniques with their Reset Center coordinators. 
Choice said he particularly enjoys seeing students engage in restorative circles. In these circles, students may work through disruptive behaviors or conflicts with other students who are facing similar issues, or they may interact with their teachers to repair relationships and build trust. 
"Sometimes there is a power struggle in the classroom, or there is broken trust between the teacher and the student or vice versa," Choice said. "When they come to the Reset Center, they talk openly, honestly and transparently about what it is that the other person did to break that trust. Then, in the end, they repair that relationship." 
The main goal of the Reset Centers is to decrease overall discipline referrals across the district, particularly when it comes to African American and Hispanic students, who disproportionately receive those referrals. Choice has worked with the Student Engagement and Support team to fund a restorative justice coach at seven schools for the 2022-2023 school year to continue strengthening those restorative practices.
"When students come to school with behavior gaps, they don't necessarily know the appropriate way to behave, so we teach them that," Choice said. "We do that in hopes that when they leave us, they will be able to navigate life. We know life is filled with so many ups and downs, and more often than not, conflict will come your way. Your response will determine whether or not you can push forward, so Reset is all of those things. It helps the students beyond their K-12 experience."
Each middle and high school with a Reset Center was selected according to historic discipline data that indicated where students have experienced the greatest need. While not every campus has a Reset Center, Choice is eager to promote similar restorative justice practices across Dallas ISD, transforming student lives in the process. 
"These last few years have been extremely trying for everyone, for teachers, for students, for families," Choice said. "When things seem to be at their absolute worst, they can turn around in an instant. So remain positive, remain hopeful, and know that no matter what you're going through, you don't have to be a victim. You can be a victor of your circumstance."