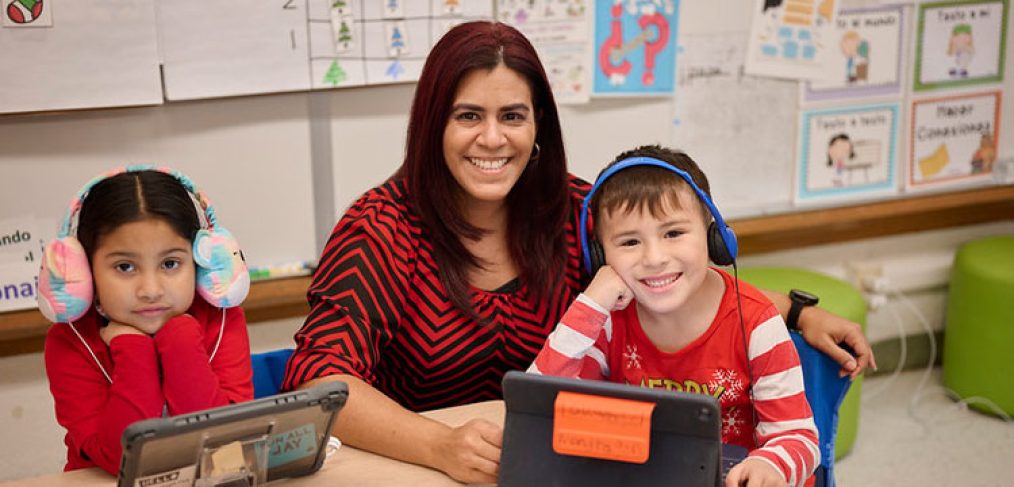 Bringing joy and fun into the classroom
For Stevens Park Elementary School kindergarten teacher Deborah Castro Torres, creativity is the name of the game. If she is having fun, she said it's likely that her dual language students will be, too, so she has spent the past 17 years and counting looking for innovative ways to keep her classes engaged. 
That often means using real-world interactions to keep students involved, whether she is teaching math, science or reading. 
"One thing that I love to do when we're doing science is to bring real worms," Castro Torres said. "I won't touch them because they gross me out, but kindergartners love touching worms. I also love to take them out to the garden for science or math. It's a blast."
Another piece of the puzzle is encouraging her students to take advantage of opportunities to help their community. Castro Torres joined the Leaders Readers Network this year to help provide diverse books in English and Spanish to all Stevens Park students, and she is encouraging the entire school to get involved through her monthlong Pennies for Literacy project. 
Her class of 22 students has been helping her lead campus-wide efforts to raise money to buy books for students to take and read at home by putting up fliers, signs and collection containers, and they are looking forward to the results.
Castro Torres also organized the Gratitude Project, during which her kindergarten class made their way around the school to thank teachers and other team members. 
"These projects spark a love of giving and giving thanks," Castro Torres said. "I have always wanted to find a way to help people, and I have been able to get books for my kids, and they've been super excited. And they have been loving the service projects."
Whether she is teaching in her classroom or supporting her community, Castro Torres' efforts are paying off. She recently became a 2022-2023 distinguished teacher, and she said she is proud of the accomplishment, a result of dedicating herself to growing as a person and as a teacher and "never working alone."
"In this job you can't work alone," Castro Torres said. "Whenever we get new teachers, I ask them, 'What do you need? I probably have what you're looking for, whether it's in English or in Spanish.' We have so much to do, so it's a big team effort. Rely on other people. Work with them and find ways to collaborate and grow." 
Castro Torres is passionate about making everyone around her feel welcome and puts joy at the forefront of everything she does.
"You have to be happy when you come to work," she said. "That, for me, is the ultimate thing. If you're happy, you do your job well, you work well with others, you help whoever needs help. It's about growing yourself and growing others so that we all grow together and we all look amazing together."