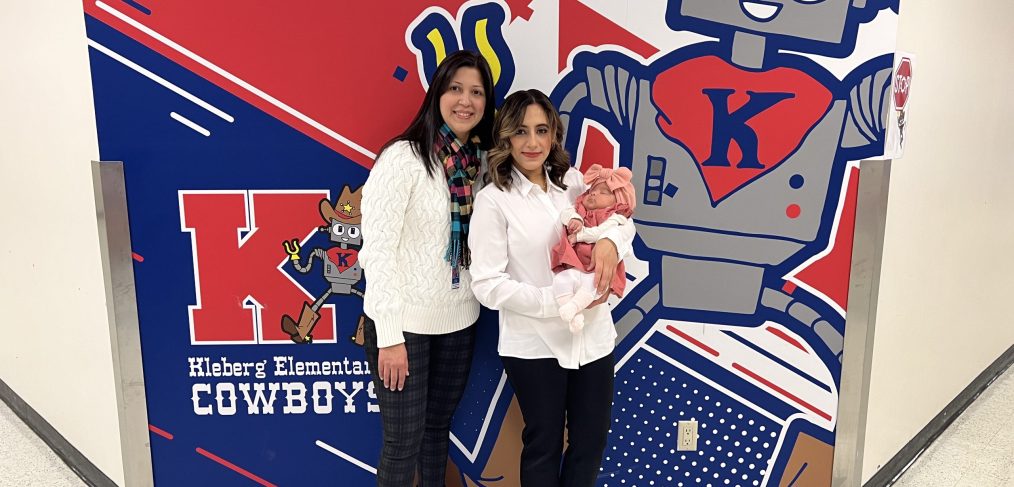 Teacher steps up to help pregnant mom deliver baby
It was just another day at Kleberg Elementary School—a student headed to the office to be picked up because she was not feeling well. The day took a turn to the unusual when Loren Carcamo arrived to pick up her daughter and her water broke. 
Kleberg's nurse, Tylar Krause, was called, and while she did not have any experience delivering a child, she knew who did: fifth-grade bilingual teacher Maria Perez Caraballo.
After hearing her name over the school's speaker system, Perez Caraballo rushed to the nurse's office, where she found Krause helping Carcamo through her contractions. Perez Caraballo was a doctor in an obstetrics and gynecology department in Venezuela—where she is from—for three years before she relocated first to Costa Rica and then to the United States to become a teacher in Dallas ISD. She did not hesitate to get to work. 
She performed an exam, and it became clear that Carcamo was not going to make it to the hospital in time. Paramedics were called, and Krause and Perez Caraballo stayed by Carcamo's side, helping her push through the contractions until the baby, Leire Carcamo, was delivered right there in the nurse's office. 
"The baby was born, and about 10 seconds later, she started to cry really loudly," Perez Caraballo said. "It was really nice. I'm glad that it is a happy story." 
The umbilical cord was wrapped around Leire, so Perez Caraballo and the paramedics worked together to untangle the newborn. They awaited the delivery of the placenta before the paramedics brought Carcamo and her new daughter to the hospital. 
"I appreciate the excellent service that our nurse provides to our students, staff and community," Principal Amy Zbylut said. "Nurse Krause's teamwork, depth of knowledge, reliability and genuine caring-spirit continued to shine during this amazing event. She knew that teamwork would be required and requested that administration get her assistance. Administration immediately stepped in and got Ms. Perez. I am extremely grateful for the teamwork and community service that occurs at Kleberg. I am especially grateful of the teamwork that was exhibited by Ms. Perez and Nurse Krause during this amazing event."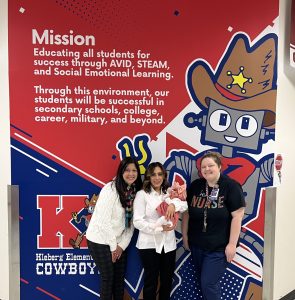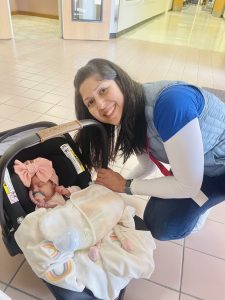 Carcamo and her newborn were released from the hospital a day after the birth at the school and headed home just in time for the holidays in December. By January, they were happy to return to Kleberg to reunite with Perez Caraballo and take a photo together.
"I'm going to treasure this," Perez Caraballo said. "I came to this country, and I studied a lot to become a teacher, so it was like I said goodbye to those days in medicine. It was really amazing. I feel really happy to have had one more experience in this science area that I worked a lot in." 
The Kleberg community is celebrating Perez Caraballo's quick action in the face of this medical emergency. Zbylut said she is thankful for every hat Perez Caraballo wears, whether it is labor and delivery or her more typical responsibilities as a teacher. 
"Ms. Perez goes beyond her classroom to support campus-wide initiatives and the community," Zbylut said. "As our debate team sponsor, she trains our students in public speaking, grace under pressure and critical thinking. She assists our campus with our diabetic students when the nurse is off campus, she assists with translating during parent meetings to create an inclusive environment and she participates in campus-wide community engagement events that strengthen school-community relationships."
Perez Caraballo is not looking for praise. Ultimately, she said she is glad everything went so smoothly, especially with such an unexpected and what she called a "very natural" delivery process. 
"Ms. Carcamo is very grateful to us that we did the best we could with what we had in the nurse's office," Perez Caraballo. "It was a really unique experience, and I think it made Kleberg more special."