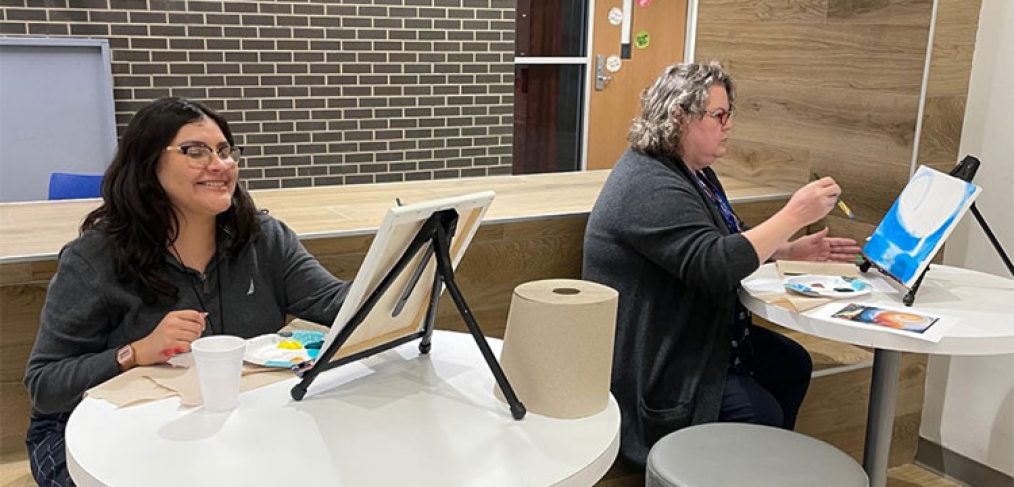 Bringing team members together at Seagoville High School
For those who have never visited Seagoville High School, Principal Janie Carballo describes its layout as similar to a college with several different buildings spaced out across campus. With 230 team members, Carballo knows it can be difficult for her team to get to know each other outside of meetings and training sessions. 
When she first arrived at Seagoville High School during the 2021-2022 school year, she needed time to get to know her large team and create the culture and climate she envisioned. So she got creative to not only bring her team together, but to also give them a space to share their talents, practice social and emotional learning and enjoy the resources Seagoville has to offer.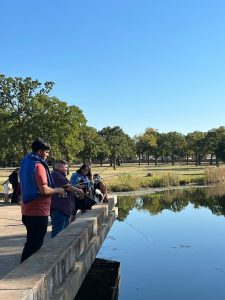 That is how the Wow Wednesdays program came to be. Once a month after school, Carballo invites her team to come out for an evening of stress-free fellowship. From fishing in the campus pond to arranging flowers or doing yoga in the gym, teachers can volunteer to lead a Wednesday activity inspired by their hobbies and passions, with Carballo providing any materials they need.
"We have teachers who can dance but are not dance teachers, and teachers who can draw but are not art teachers. The talent is there, so we can really showcase each other and just enjoy each other," Carballo said. "Sometimes we get so busy focusing on data and tests that we forget that we are humans, and we have other likes besides school."
Visual arts teacher Robbie Messerschmitt helped co-lead their "Painting with a Twist" week alongside visual arts teacher Marcus Ruffin. Ruffin provided inspiration with four kinds of drawings, and then the attendees got to choose a canvas and paint as Messerschmitt and Ruffin walked around offering support. 
"They actually stayed a lot longer because they were having such a good time," Messerschmitt said. "And we have some teachers who had budding talents they didn't know, like Ms. Mendoza, who kept saying she didn't know how to paint and made an absolutely gorgeous painting. She has it in her office now." 
Carballo said she has been pleased with the results of the program and is excited to see it continue through the rest of the school year. Teachers have gotten to know peers outside of their departments, and as word has spread about the great activities available, attendance has increased. 
"I really do feel that if you love and enjoy what you do, then the students will find joy," Carballo said. "As a community, we have to engage and connect, especially when we are dealing with so much. Even beyond the pandemic, we have team members whose family passed away or whose parents are sick. We have to really enjoy each other, realize that we are in this together and show grace, understanding and empathy."