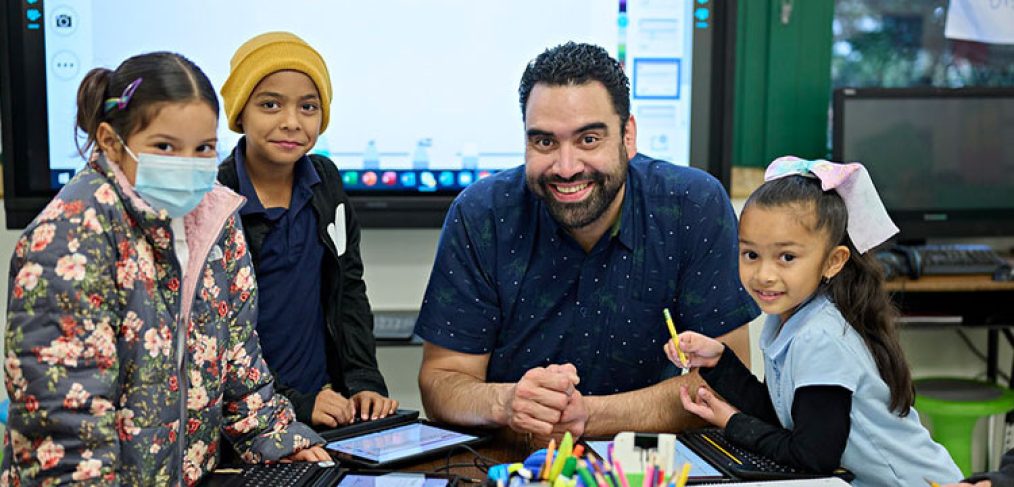 Transforming student lives through reading
Jose Fernando Loaiza never expected to become a teacher, but when he entered his first classroom, he said it did not take him long to realize he had found where he was supposed to be. Today—20 years later—he relies on students' love of reading to transform their lives and make memorable moments at San Jacinto Elementary School.  
"I love this job," said Loaiza, a second-grade bilingual teacher. "Teaching is a calling. It is not for everyone, but if it's done well and with passion, we get to go to bed every day knowing we impacted someone in a positive way. As a teacher, service to others is my currency. That passion was instilled in me since I was little, and it still rings true in me."
As San Jacinto's 2022 campus teacher of the year, Loaiza is dedicated not only to his students' success, but also to the success of his school community. One day, Loaiza was encouraging a student to find a quiet spot to read at home, and the response inspired him to start San Jacinto's after-school reading club.
"He looked me straight in the eye and said, 'I have nine people in my house. I have no space,'" Loaiza said. "You forget that some of our students are in those situations, so I wanted to create a reading lab for them."
Loaiza gathered his family and other teachers, cleared out a portable that was being used for storage and got donations of couches, artwork, beanbags and more to furnish it. Now, he said 20-30 students regularly stop by on Tuesdays, Wednesdays and Thursdays for 40 minutes of quiet reading and 20 minutes of fun. 
"It's a space where they can read whatever they want to and explore that joy of reading in silence," Loaiza said. "And since we don't use it during the day, our school psychologist has her sessions there. She was telling me, 'This is great because it doesn't feel like a school at all.' It's nice to see how that little project is impacting another educator with her work."
Loaiza, a former basketball player, was also inspired to start a girls' basketball club on campus last year. He began with just seven students and has grown the group to about 25 fourth and fifth graders, with plans to bring a boys' team together soon. 
His efforts to create safe, engaging spaces for students have not gone unnoticed. 
"Mr. Loaiza goes above and beyond for our school and believes all students are his students," said Ashley Combs, a fellow San Jacinto teacher. "He leads with passion and others gravitate toward it. Any way he can brighten a child's day or even a teacher's day, he will accomplish that. He believes everything is possible for our students and refuses to settle for anything less than the best. We are grateful to have such a selfless, passionate and empowering educator on our campus."
Principal Sarah Hafley-Mendoza added, "We are honored to experience Mr. Loaiza's passion and dedication on a daily basis. His impact is truly infinite. His care for our students, staff and community makes a big difference. Thank you for being so inspiring!"
Through it all, Loaiza has remained dedicated to what he sees as a teacher's currency: service. 
"We want to make San Jacinto one of the best schools in Dallas ISD," Loaiza said. "We have a strong team of teachers, wonderful administrators and a wonderful community. That's one of the many reasons I'm here: I love this community, the parents, the students."