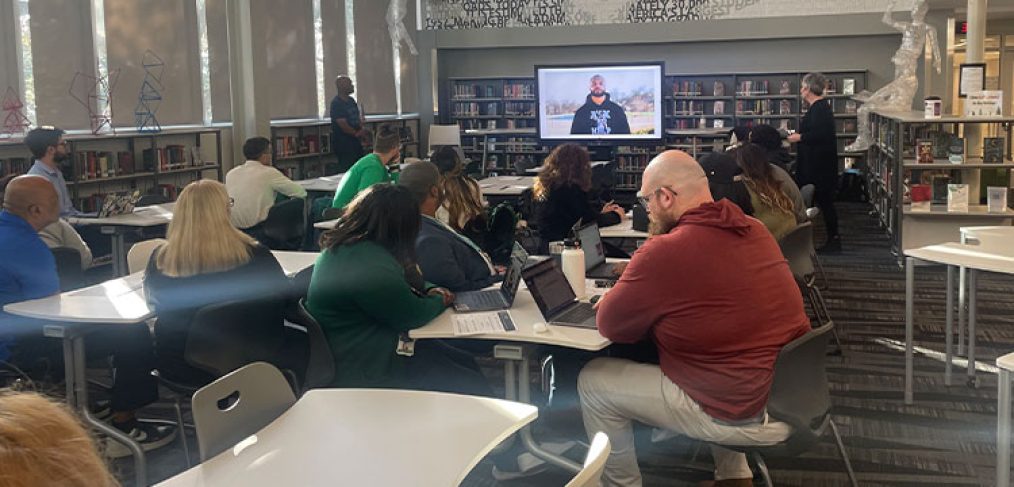 Learning to support students in crisis
As the new spring semester was getting underway, Dallas ISD's Mental Health Services department held two suicide prevention workshops—at South Oak Cliff High School and Bryan Adams High School—to better equip school teams with the tools to recognize at-risk students and provide the necessary supports. 
The trainings were facilitated by Martha Thomas and Chris Thomas of The Defensive Line, an organization whose mission is to end the epidemic of youth suicide, especially for people of color, by changing the way people communicate and connect about mental health.
"The Defensive Line provides suicide prevention workshops to coaches in middle and high schools, particularly focusing on schools with a majority of students of color in an attempt to bring nuanced conversations of race and mental health to coaches who have the greatest opportunities to expand their curiosity and create supportive environments for all of their players," said Martha Thomas, the chief education officer for the organization. 
The Defensive Line was founded by Martha, Chris and Solomon Thomas following the loss of their daughter/sister, Ella, to suicide in 2018. The two two-hour long trainings discussed an action plan for intervention when there are concerns that a student may be in crisis. They also shared a strategy called D-LINES and addressed topics such as racial bias and microaggressions. Dallas ISD team members were able to ask questions and provided feedback during the presentation. 
"I observed the teachers learning a new skill, which is directly asking someone if they are considering suicide," said Ashley Gilmore, a mental health clinician for the district. "Most people have never asked that question so directly and had to adjust. That experience is very likely to stay with them and be useful if they are ever in the situation to have to ask for it for real."
Gilmore talked with some of the teachers who attended, who were all very passionate about the health of their students. Some teachers shared ideas on ways they could receive support. 
"They truly understand their role as the safe person for a student and want any and all tools they can have to be effective," Gilmore said. "An idea that came up during that conversation is that teachers and staff need reminders on what to do if a student is in crisis and what the district offers to assist with treatment, like an email with the information or a guide to put in a lanyard for easy reference."
For more information about suicide prevention trainings offered through Dallas ISD, contact Jennifer Davis, mental health director for the district at jenndavis@dallasisd.org.