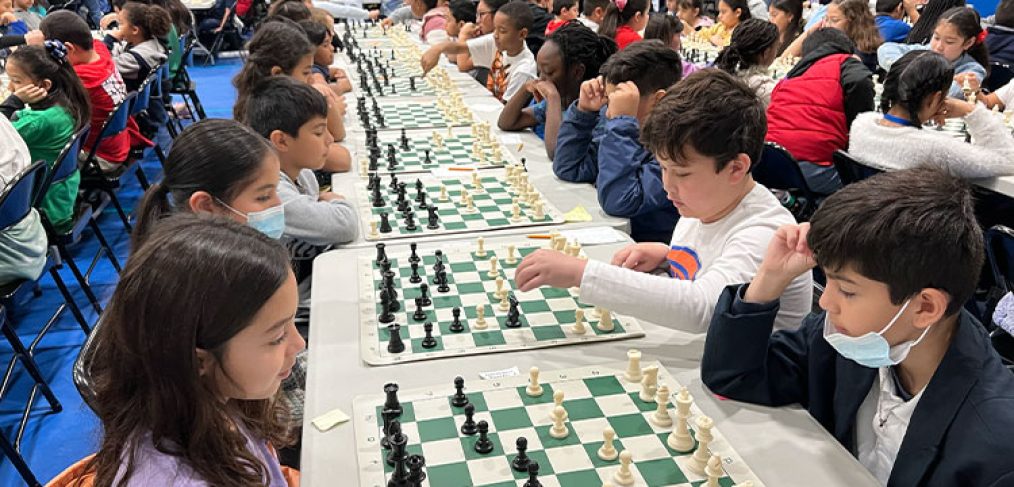 Dallas ISD chess tournaments hit record-breaking participation numbers
Two tournaments, two Saturdays, and one school filled with excitement and suspense as almost 2,000 Dallas ISD elementary and secondary students competed against each other in the fall chess tournaments hosted recently by the Student Activities Department at the Barack Obama Male Leadership Academy at A. Maceo Smith. 
The secondary chess tournament in October kicked off the first of two Saturday tournaments with 665 students from 72 middle and high school campuses ready to play the strategy game of chess.
Students were able to play multiple rounds of chess, paired with different opponents, based on their wins and losses after each game. Different strategies were used throughout the tournament, and the winners came home with a gold, silver, or bronze medal.
Even though the king's pawn is the most popular opening move in chess, Christian de Santiago from H. Grady Spruce High School said he prefers the second most popular opening move. "I like to use the queen's pawn opening to get most of my pieces free," the bronze medal winner said about his strategy. "This lets me get a lot of my pieces out on the board and control the game."
On the other hand, Diego Galvan from Trinity Heights Talented and Gifted said playing fast is his strategy. "I like to play a fast-paced game, predicting future moves and not giving my opponent time to think too much before their next move," said the gold medal winner.
"Students came ready to use what they have learned from previous years as they played each game," said Tyne Thompson, coach at South Oak Cliff High. "My students are eager to compete and learn from their opponents, while also sharing their knowledge and love for the game," Thompson added.
Following the secondary tournament, students in kindergarten through fifth grade had the opportunity to compete in the elementary chess tournament, held in early November. This was the first year that kindergarten through second grade students were invited to compete in the districtwide chess program. Shattering attendance records, 1,265 students from 103 schools attended the elementary chess tournament at Barack Obama Male Leadership Academy at A. Maceo Smith. 
For many, it was their first time participating in an in-person competition. "It was cool to see all the chess boards set up to play in one room," said Lucie Tims, a fifth grader from Alex Sanger Preparatory School. More than 600 chess boards had been set up the previous night, spread across two gyms and the cafeteria, to be able to accommodate all the students who competed in the tournament.  
At the end of the secondary tournament, 30 gold medals, 10 silver medals, and 87 bronze medals were awarded to the sixth through twelfth grade students who competed that day.
At the end of the elementary tournament, 103 gold medals, 80 silver medals, and 300 bronze medals were awarded to the kindergarten through fifth grade students.
Each school participating in the districtwide chess program receives chess boards and pieces as well as Chesskid.com gold memberships, allowing students to play with peers at their campuses. The Spring chess tournaments for secondary and elementary schools are scheduled for April 15, 2023, and May 6, 2023.