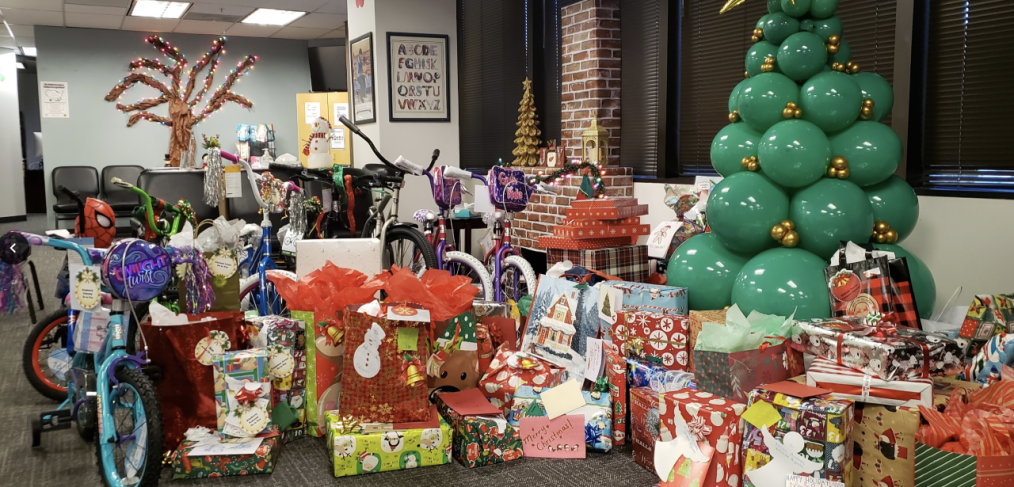 Making families feel welcomed
Staff members at the  Margaret and Gilbert Herrera International Welcome Center are doing their part to bring joy to the families they serve through their Adopt a Family Program. This endeavor began in 2013 when staff members decided they wanted to do something to give back to the immigrant families they serve. 
"Adopt A Family is something we've done every year as a way to give back to our families, to make sure that we are supporting them with other needs throughout the year. The holidays are a great time to do that," said Amanda Clymer, director at the Margaret and Gilbert Herrera International Welcome Center. 
"We serve all students and families who are new to the country,  who come through us for registration,  enrollment, language proficiency testing and other services," she said.  This year, approximately 2,700 students and families have passed through the center's doors. 
Each year staff members identify five families from different parts of the district. Representation from countries with the highest enrollment is taken into account.  
"This year, the families participating are  from Tanzania, Venezuela, Mexico, Afghanistan, and Honduras," said Adriana Lopez, supervisor in the Dual Language ESL Department. 
"When we adopt a family, we adopt the whole family, which means anyone living in the house," Clymer said. "Our team reaches out to the families, and we ask them each for a need and a want. A need is something  like shoes or a coat, and a want is something like a toy or a bike, for example. Every family member gets two gifts. We also collect gift cards within our team, and anyone in the district is welcome to donate a gift card. We then divide the gift cards up among the families." 
Each year, the  gifts are delivered by staff members who dress up as Santa Claus and elves, while some staff members sing and play guitar, making it a festive occasion. This year,  the gifts will be delivered on Dec. 19.
"I've had the opportunity to go to the delivery for seven years, and it's so rewarding to see the kids so excited and the families' faces light up. It's rewarding to see them so happy. That's the most gratifying thing for me," said Lopez.
It's these caring efforts that have the Adopt A Family program grow each year, Clymer said. 
"We're their first experience at Dallas ISD and we want it to be a welcoming one. We want our families to feel they can reach out to us to facilitate anything once they get to the campus. We have people that come visit us from Plano, Richardson and other areas because they have heard that we help," Clymer added.
For anyone interested in donating a gift card to the Adopt a Family program, contact Diana Gonzalez, Dual Language ESL Parent Coordinator at dianagonzalez@dallasisd.org.