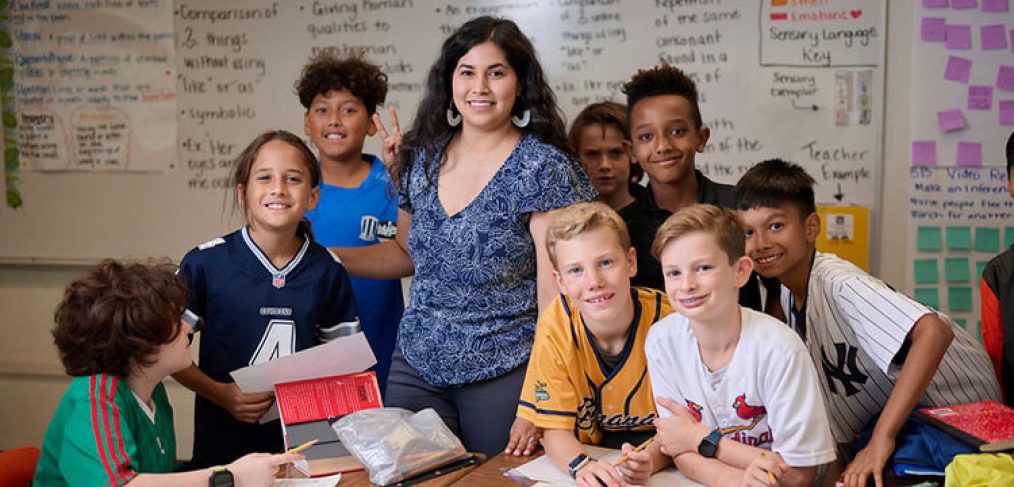 Dallas ISD is home for successful teacher
April Castillo, a fifth grade ELAR teacher at William B. Travis Academy/Vanguard for the Academically Talented and Gifted, celebrated her students' State of Texas Assessments of Academic Readiness (STAAR) results by letting some of them pie her in the face. She had promised all 88 of her students that they could, but only if they received a score of 100 on the test.
"I thought they would forget about it," Castillo said. "I told them, 'I'm not going to stress you out about it. You just have to do it on your own.' But they came back once those scores were released, and I got pied in the face by 22 students who made 100—and I had to wear a Cowboys jersey because I'm a Tom Brady fan."
But that was not all. Every single one of her students reached mastery on the STAAR test, up from her previous year's accomplishment of 98 percent mastery. This is only Castillo's fourth year teaching, and she has already earned the distinction of Campus Teacher of the Year. 
"April goes above and beyond," Principal Tom Brandt said. "She also earned the highest Student Perception Survey results out of all our elementary school teachers and presented her strategies to our staff to start the school year. She recently sent two students down to the principal's office with positive referrals. She is a rock star teacher." 
Castillo was inspired to become an educator by her parents. Her mom worked as a teacher assistant in Dallas ISD for 25 years before retiring, while her dad is a custodial lead in the district who is planning to retire this year. They instilled a passion for education in Castillo that carried her through her own schooling at Dallas ISD and the Tech Teacher Program at Texas Tech before leading her back to the classroom. 
Her approach to teaching is all about building trust with her students and empowering them to guide their learning. She has done this by incorporating data practices, one-on-one conferences, student-led activities, independent pathways and more, always striving to be a facilitator and a cheerleader. 
"I had kids coming in who were approaching and were barely not meeting," Castillo said. "Seeing them go from, 'I'm not good at reading, I get zeros,' to, 'I got a 100,' on everything was my absolute favorite part of last year."
One of her units includes novel studies, which she always demonstrates the first time before sending her students off to choose a book of their own the second time. She encourages them to select books of any genre, even if they have read them before, as long as they have a plot. 
"Once they start realizing they have the freedom to choose things according to their interests, they start to like reading because it's not something that's forced upon them," Castillo said. "They love going to the library now. They absolutely love it." 
Moving forward, Castillo hopes to get her master's degree through the LEAD program and help shape the culture and climate of a campus for future students. In the meantime, she is working hard to continue developing her skills and is encouraging new teachers to "ask questions and don't be afraid to make mistakes."
"I love Dallas ISD," she said. "Growing up in Oak Cliff and having teachers who took the time to get to know me and build relationships with me put me where I am today. While my story and my success are part of me, my teachers led me here. I have always known that the district gave me so much, so I want to stay and give back."