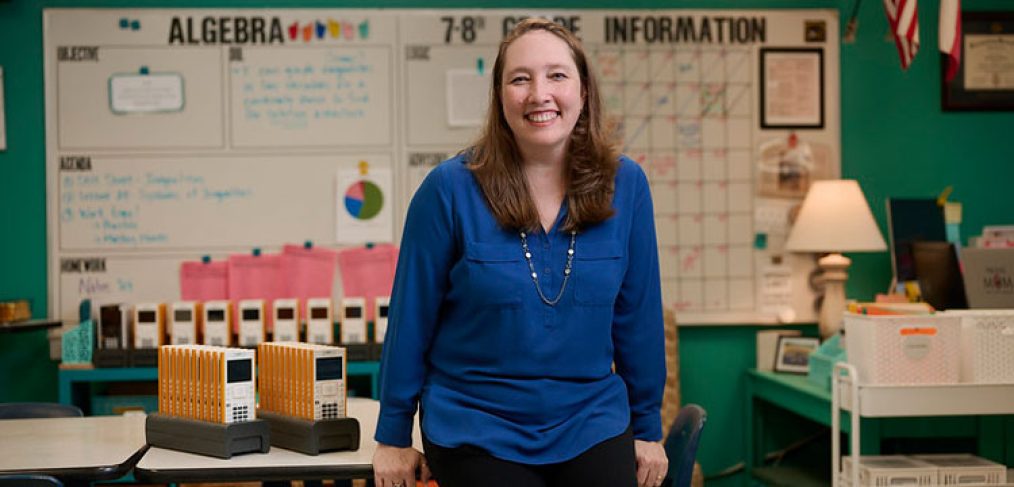 Dealey teacher brings passion for service to the forefront
Service has always been one of math teacher Jill Emery's core beliefs, one that she works hard to instill in her students at George B. Dealey Montessori Academy. So when she earned a 2022 "Service Above Self" Dallas Rotary Club Award, she said it was the "most meaningful award" she has ever received. 
"As a person, I've always felt like it is important to help others," she said. "Just knowing that this award is not just honoring what I have done, but is honoring who I am—that is really important to me. In everything that I do, I am always striving to give more and to help others be better and do good." 
For Emery, service has looked like stepping up amidst the COVID-19 pandemic in several ways. She joined a team of teachers to develop a free video series of math lessons for public radio station KERA and Dallas ISD that were aired over the summer in 2021 and 2022 to bridge the learning gap for students.
Those videos evolved into a library that she now uses in her flipped classroom, in which her students can learn at their own pace by accessing the majority of her lessons from home. The system empowers her advanced students to participate in bonus lessons and feel challenged, while anyone who is struggling can revisit the information and get the support they need. 
"In my classroom, everything is about mastery; it's not just about checking boxes," Emery said. "I was just working with a student on a topic that he had struggled with all of last year, and by the end, he was saying, 'Wow, is it really this easy?' He came in feeling defeated and left with a big smile on his face. I had never seen him so excited to be in a math class, as math was always his scary class." 
Emery also took on additional responsibilities to help Dealey's leadership team during a period of turnover, assisting with testing coordination, family communication, student discipline, master scheduling, teacher collaboration and academic support. 
One of the programs she developed was designed to foster the "love of giving and serving" in students in higher grade levels by having them help students in lower grade levels, and the students have benefited from giving each other that encouragement. 
"I am always looking for opportunities for my students to give beyond themselves," Emery said. "I feel like this particular award helped me demonstrate to them that service really is important, and that people don't do service to be recognized, but people do recognize leaders who serve." 
Emery is currently working through a one-year master's program in educational leadership at SMU with a goal of becoming a better leader. She said she hopes her students will continue to see her passion and dedication for helping others and develop that same core foundation of service in their own lives.