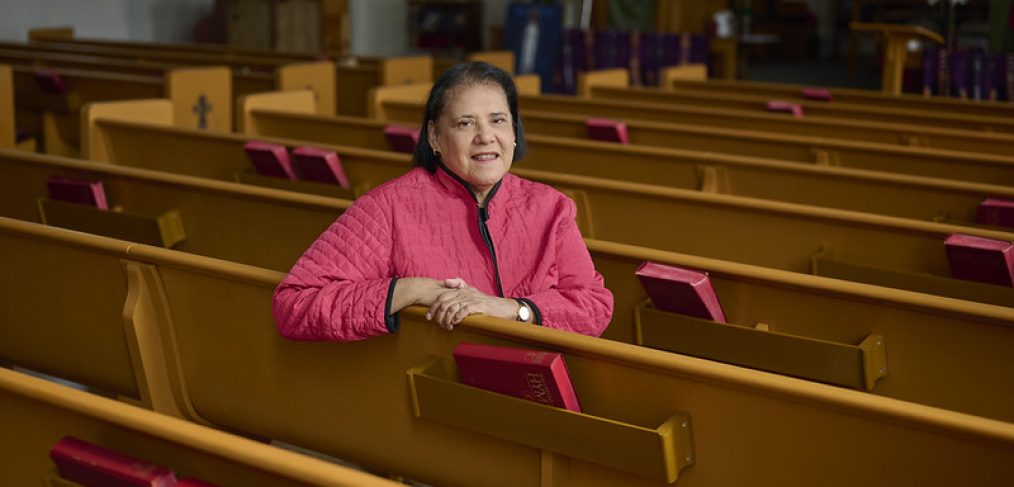 Native American Heritage Month: Tracy Palmer celebrates American Indian education
Every time Tracy Palmer, a specialist with Dallas ISD's American Indian Education Program, sees a Native student graduate, she is glad she chose a career where she can help transform the lives of students like her.
Growing up in Oklahoma, Palmer remembers not being able to read or write because she did not have American Indian educational support, so seeing Native students graduate is "one of the greatest moments," she said.
"Once I knew who I was and where I was, I felt like I had a big moment in life—that 'ah ha' moment," said Palmer, who has been with the district since 2008. "I can actually say my dream came true, so I always tell our graduating students, 'I'm so proud of you. You made it.' And they will say, 'Thank you for helping me. Thank you for caring. And thank you for what you do. You've changed my life.' Those are memories that can never be forgotten." 
Palmer started her career in Oklahoma as a proud second generation college graduate, earning first her associate's degree from Haskell Indian Junior College and bachelor's degree in fine arts from the University of Tulsa and then her master's degree from Oklahoma City University thanks to a grant-funded scholarship written by Stuart Tonemah of the Kiowa tribe. The scholarship enabled a small group of American Indian educators across the country to pursue a master's degree specifically in gifted education for Native American students. 
"I initially thought I wanted to be a full-time artist, but then a teacher got a hold of me and said, 'Why are you here? You need to be an educator,'" Palmer said. "That was it. I applied for the American Indian Research and Development Inc. scholarship." 
That was when Palmer—a registered member of the Muscogee Creek Nation Tribe of Oklahoma, who is a quarter Creek, a quarter Seminole, a quarter Cherokee and a quarter Irish—found her true calling. She went on to be a field worker and project coordinator for several Oklahoma public schools, specializing in youth advocacy and American Indian education, before finding her way to Texas as a cultural consultant and tutor for Fort Worth ISD. 
From there, she joined the Urban Inter-Tribal Center of Texas as a job developer with employment and training, which further equipped her with more of the skills and contacts needed to thrive at Dallas ISD. 
"We did outreach for so many avenues beyond the regular services, and those relationships were crucial," Palmer said. "It was a great job that gave me four and a half years to learn about the Native population here, who came for everything from clinical and mental health support to outreach services and our food pantry. Then I got the opportunity to transition to Dallas ISD. This is the largest district in the United States that I have ever worked for."
Now, Palmer takes great pride in her work with Dallas ISD's American Indian Education Program, which provides Native students with cultural enrichment programs, college and career preparation, truancy and retention support, culturally competent counseling, representative book clubs and more. She also has a vision of providing STEM enrichment opportunities to Native American students in the DFW area by collaborating with another American Indian Education Program in Fort Worth. 
After three decades of service to American Indian education across Oklahoma and Texas, Palmer said it has been an "honor" to practice her culture and remind Native families that they have "the legal right, the civil right and the cultural right of preservation and understanding of who we are as traditional people indigenous to this continent in pursuing an education."
But none of this work has been an individual effort, Palmer said. She is glad to have spent so many years working alongside talented, passionate people who are dedicated to providing opportunities and support to Native students, and she is looking forward to the work still to come. 
"I really believe in servant leadership," Palmer said. "As a Native woman, I can say being a servant leader in education has been a privilege. To see our Native people, our students of Dallas ISD, walk across that graduation stage, I know that no matter what their career, vocation or dream is, I was just a small part of that. That is why I am here."