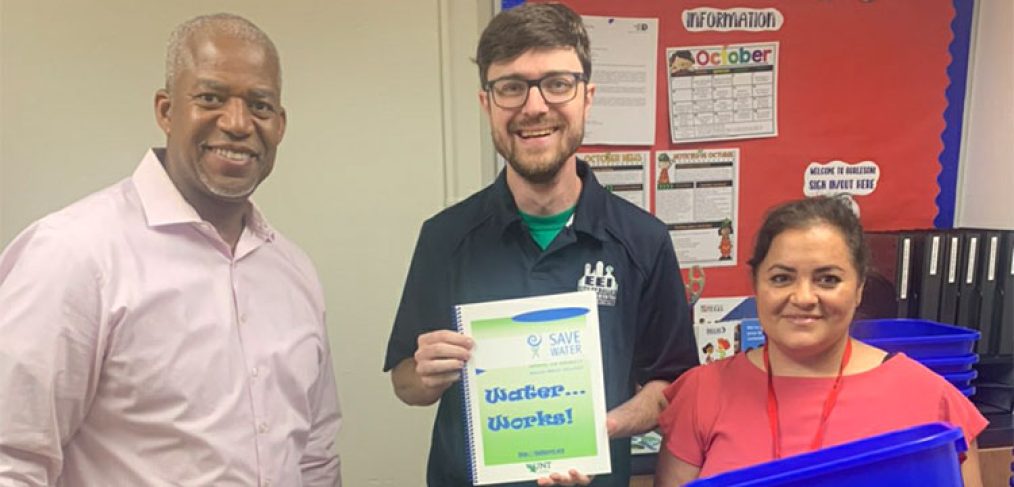 Dallas ISD recycles for the future
America Recycles Day has been celebrated for 22 years, and Dallas ISD is doing its part by promoting recycling on Nov. 15 and every day in all of the district's schools and facilities. 
In the last five years, the district has made significant gains in recycling. According to Bryant Shaw, manager of the district's Energy and Sustainability Department, recycling has increased from 12 percent to 17.1 percent. That's approximately 23,000 tons of materials recycled every year. Nationally, according to the Environmental Protection Agency, the recycling rate has increased from less than 7 percent  in general in 1960 to the current rate of 32 percent. 
Since 2017, the district has also had a 52% decrease in trash going to the landfill.  That's 48,654.13 tons in 2016-2017, compared to 15,576 tons in 2021-2022. 
One of the departments committed to recycling is Food and Child Nutrition Services. In 2015, Dallas ISD replaced the polystyrene trays with compostable plates in the cafeterias. According to Shaw, the district hopes to add compostable trash bags and utensils by 2027. 
FCNS has promoted recycling beyond the district.  
"We currently make trimmings (and other scraps which are appropriate) for composting available at no cost to schools which have gardens or which compost," said Yetzel Meza, spokesperson for FCNS. "We support efforts at the district, city and county level which would support community-wide recycling efforts. We advocate for the use of recyclable materials in food service packaging," 
Schools have played an integral part in this success. Staff members, students and families have become more informed throughout the years.  
"In some cases, some schools have a second generation of families participating—the parents participated in recycling when they were in school and taught their children about recycling. Now their kids are practicing this in the schools," Shaw said. 
Rufus C. Burleson Elementary School is one of the schools dedicated to recycling. Teacher Bobby Adams, known as "the Earth man" by his colleagues, leads the school's recycling club. According to Jessica De Paz, a parent instructor, the school used to use empty recycled boxes. Each teacher would fill the box up with recyclable items, and every Friday, Adams and the fifth grade recycling club members would pick up the boxes and empty them. 
Thanks to second grade bilingual teacher Lidice Martinez, the school now uses recycling bins donated through the city of Dallas' Water Conservation Division. 
"I feel that teachers such as Adams and Martinez are planting a seed that will influence the students when they are in middle school, high school, college and beyond. They have planted a seed of mindfulness and environmental awareness that will impact and help the students for the rest of their lives," said De Paz. 
For resources and activities for America Recycles Day, the EPA has created a webpage for educators at: https://www.epa.gov/recycle/reduce-reuse-recycle-resources-students-and-educators.