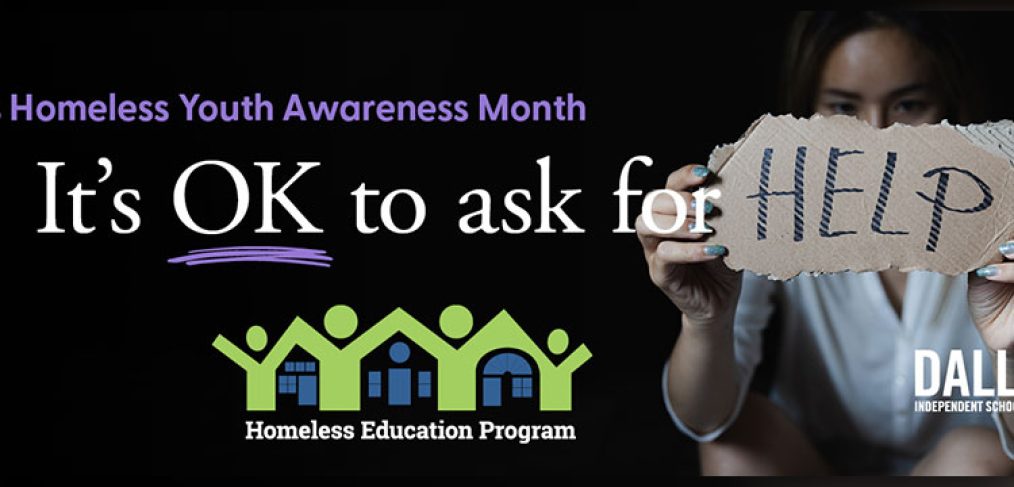 Spreading awareness during Homeless Youth Awareness Month
November is National Homeless Youth Awareness Month, and Dallas ISD wants to create a strong awareness of the homeless youth who attend district schools and the challenges they and their families face. 
Each year, more than 3,900 students across Dallas ISD experience some form of homelessness or housing instability. These students and their families have shown they are resilient and, like all of us, deserving of equal education and social and emotional support.  
The Dallas ISD Homeless Education Program trains staff, connects families to resources and engages students to build a bridge toward their academic and future success. Here is how you can help the HEP: 
Learn

—If you have not completed the HEP's self-paced training, visit the Cornerstone main page. The training can be located by searching for "Homeless Education Program Training."

Educate

—Raise awareness and let everyone at your campus know that the HEP is ready to help. 

Evaluate

—Dive deep into what is working and what needs to be improved. 

Activate

—Take the initiative. Create a successful school food pantry after getting trained on how to start a school food pantry by the HEP.

Advocate

—If a student is identified as homeless, enroll immediately or call the HEP for assistance and support. 

Escalate

—Rally more support through your school alumni group, get to know your community's social programs and introduce your campus needs to local businesses and community organizations.

Celebrate

—Recognize campus efforts and celebrate the support for our homeless students and their families.
You can help the HEP spread awareness during Homeless Youth Awareness Month by wearing purple every Friday through November, or by participating in the following activities: 
Nov. 2—Purple Cheer Kick-Off at Dade Middle School

Nov. 7, 10 and 21—Thanks & Giving days, where people can donate through the

HEP's Amazon Wishlist

Nov. 14-17—Schools are hosting drop-off donations of pull tab can food/snacks

Nov. 22—Share pictures of activities in support of the HEP on social media
If you have any questions or would like to schedule a donation drop-off, contact the HEP at 972-749-5750 or homelesseducation@dallasisd.org.