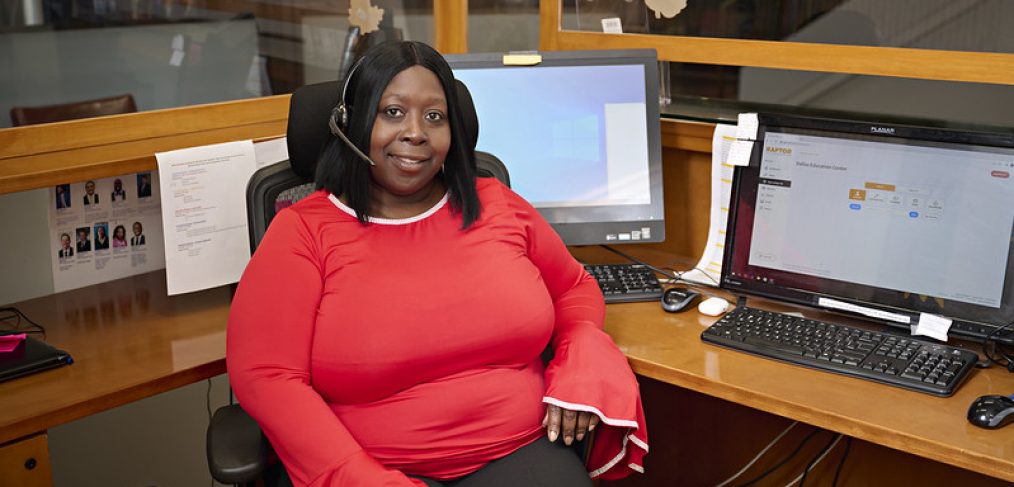 Core 4 service with a smile
Carolyn Jones, a Call Center specialist, understands what it means to practice the Core 4 culture tenets in everything she does. 
She responds to anywhere from 80 to 220 calls a day depending on the season, assisting with payroll concerns, parent questions, emergencies and more. While some simple requests can be resolved quickly, they all require patience and Jones' favorite technique. 
"When you do customer service, you have to be compassionate," she said. "I learned a long time ago that when you smile over the phone, it brings a caller ease. Even though they can't see you, your voice dictates how the interaction will go. So whether I'm on the phone or in person at the welcome center, being friendly makes a big difference."
Her favorite memory of working at the Call Center comes from what could have turned into a disaster. A parent called in who did not know where her daughter was, and the parent was "frantic," Jones said.  After getting all the information she could, Jones remained calm and started making calls, staying after hours to retrace the student's footsteps until she and the parent realized the student had gotten off the bus and gone to a friend's home instead of her own. The parent was so grateful for Jones' support that she emailed Jones' manager to express her gratitude. 
"That's just a part of my job," Jones said. "It's about going over and beyond when you feel the need, especially when someone is upset. Because what would I want? If I was going through that, what would I want someone to do for me? Take the time to say, 'Let me see what I can do.' And that's what I did for that parent." 
That was not the first time Jones has been praised for her exemplary customer service and it certainly won't be the last. She first came to Dallas ISD as a temporary employee in 2013 and worked in a variety of departments on her journey to her current position, all of which she said she loved. 
Jones did not expect to end up in the Call Center. In fact, she said she "always thought I wasn't customer service material," but she has been passionate about helping people ever since she was a child, so when the opportunity arose a few years ago, she took a chance. Now, she says, "I'm glad I did, because if I hadn't, I wouldn't have known that I'm cut out for it." 
Being focused, fast, flexible and friendly requires commitment and passion, both of which Jones has in spades. She said she believes in the significance of her work and in Dallas ISD's mission to educate all students for success. 
"Any communication is life to a person," Jones said. "I grew up always wanting to help people, and here I am. I don't need any accolades. I just want to come here every day to do my job. Any positive feedback makes me humble, but I'm just being me."