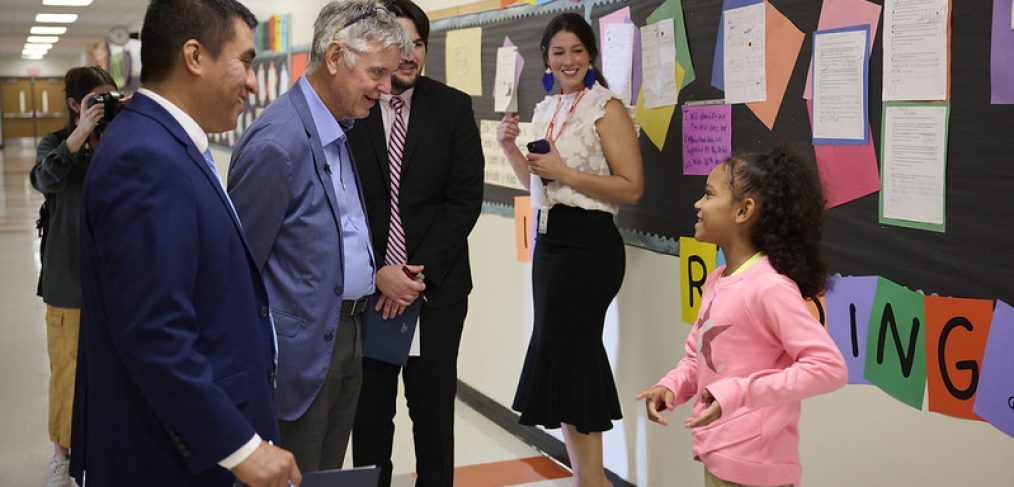 Research-based strategies make learning visible
Professor John Hattie, a leading researcher in the education fields and author of "Visible Learning" and "Visible Learning for teachers," visited C.A. Tatum Jr. Elementary School and Ann Richards STEAM Academy on Oct. 26 to provide insights on research in action. 
Hattie's work encourages teachers to evaluate their own teaching practices, see learning through their students' eyes and support students in becoming their own teachers. 
At both Tatum Elementary and Richards Academy Hattie met with a team from the school to hear their successes and growth areas, toured classrooms to observe teachers and organized a debrief to determine next steps. 
One of the main focuses at Richards Academy was incorporating success criteria into each lesson to accelerate student growth. 
"Referencing my learning goals and success criteria, as well as having students hold themselves and me accountable for what is needed for success in that lesson, helps them know what is expected for them to learn and demonstrate each lesson," said sixth-grade math teacher Audrey Wilcox. 
Hattie encouraged campus leaders to ensure that their teachers understand the impact they are making each day as they follow the "Visible Learning" practices. Overall, he said he was pleased to see how the students were interacting in the classroom. 
"I saw everybody engaged—every student—and that's very rare," Hattie said. "It was quite impressive to see so much engagement, and hearing from the students, they are on task. Even when it was difficult, they were not turned off by that." 
The Tatum and Richards communities will continue to use "Visible Learning" strategies, including the success criteria, to enhance student learning, increase engagement and allow students to play a more active role in their education.