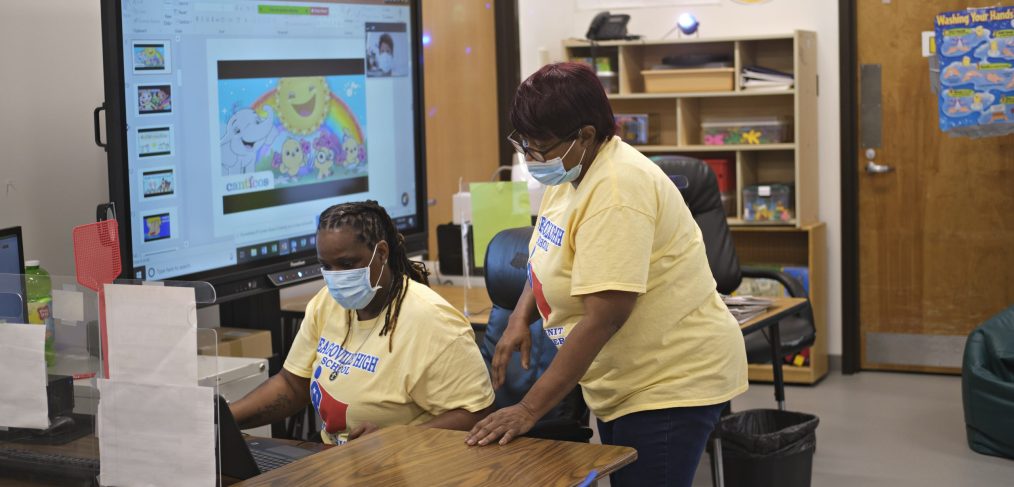 ESSER update: SPED online assessments increase efficiency
More and more experiences are going digital these days, including the Special Services Department's online assessments. These assessments are used to determine what support a student who is referred for these services needs to thrive, making it especially important for them to be both timely and of high quality. Thanks to federal dollars from the Elementary and Secondary School Emergency Relief (ESSER) fund, the online rollout has been a success.  
"In the past, we would have to purchase protocols, like a paper rating scale that we would have to give to parents or to the student. Our evaluators would send them out, and they would get lost," said Anabel Meyer, executive director of Special Services. "Now we can email rating scales, and the systems can score the protocols automatically, and, in essence, help us write our reports. They really do help increase efficiency and capacity." 
Last school year, $250,000 from the ESSER funds went toward providing the online assessment platforms—Q-Interactive and Q-Global—and any other necessary technology required to complete the protocols. Not every assessment is best suited to the online format, but the Special Services team plans to use ESSER funds to keep the momentum going for an additional two years. 
This year, they received a funding increase of $100,000 and anticipate using $350,000 for online assessments, because, in Meyer's words, "We see the need; we see how much the online assessments helped."
Special Services Executive Director Michelle Brown agreed: "Typically, when you think of a special education evaluation, you might think it's only one person. But sometimes it can be up to four or five people who are evaluating the same child, so having digital tools makes it easier for the team to work together to ensure that they are having a quality evaluation looking at all disciplines." 
Not only have the online assessments increased Special Services' overall capacity, but they have also reduced maintenance costs and made it easier for evaluators to access the most current information. 
One area they are hoping to develop further is access to bilingual online assessments. Some companies that Dallas ISD has worked with in the past have not offered Spanish evaluations, so Special Services is researching bilingual assessment options as they become available to expand the offerings they have. Meyer said the goal is to let families know that they are receiving the "gold standard and the highest quality" for their students. 
"Time is of the essence," Meyer said. "Students who need specialized services of any sort have some of the biggest gaps in their learning, so we know that early intervention is key; early identification is key. The quicker we can be with providing those evaluations and getting them linked into services the better so those students can feel successful early on."