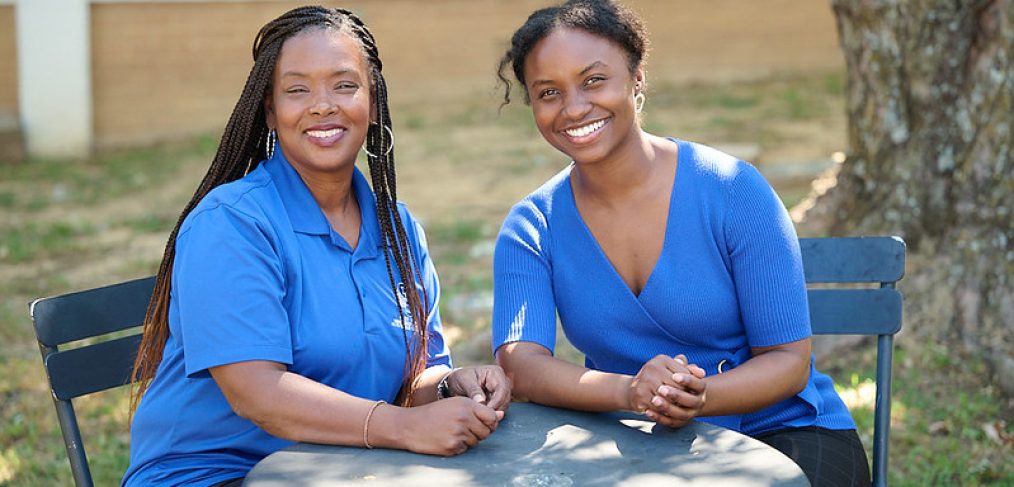 Transforming lives through mentorship
National Mentoring Day is being celebrated on Oct. 27 to recognize the extraordinary leaders who are sharing their skills and experiences with those around them. Dallas ISD's Mentor Teacher program was developed to create those transformative connections, and this year, 746 mentors were paired with 967 mentees to impart the confidence and skills they need to thrive. 
"Ensuring that every student in Dallas ISD has access to an effective teacher is a top priority," said Charissa Govan, executive director of Professional & Digital Learning. "Additionally, we believe that nurturing and retaining teachers is critically important. Dallas ISD mentor teachers are champions who support and coach new teachers on their journey as professional educators. Our mentors have shown a passion for the profession and serve as a model for lifelong learning and leading to promote excellence in the classroom."
Heaven Odanga, a pre-K/kindergarten montessori guide at Harry Stone Montessori Academy, is one of those new teachers. The proud Skyline High School graduate was inspired to join Dallas ISD as a teacher when she learned about the national teacher shortage. 
"I saw the vacancies, and I thought, 'That's my district. Those students may not have anyone to teach them, or they are going to have a different substitute every day,'" Odanga said. "It was my push to go ahead and apply."
But starting off as a first-year teacher and a first-year Montessori guide is no easy feat. Luckily, Odanga was matched with Janet Washington, a lower elementary Montessori guide who has been teaching in Dallas ISD for the past 15 years. 
The two of them were working together to support the school's cheerleading team before the mentorship program was even announced, so Washington said their mentor/mentee relationship was a natural transition. 
Harry Stone's mentorship program kicked off with a comparison reading about marigold plants and walnut trees. Odanga explained that marigolds are scientifically proven to help other plants grow and flourish, while walnut trees have been shown to release a chemical that keeps plants around them from growing. Each mentor pair was given a marigold plant to symbolize their teaching goals, which Odanga keeps in her classroom. 
"We are responsible for making sure that this community flourishes, and I take pride in having that responsibility. Ms. Washington will even say, 'How is my marigold doing?'" Odanga said. "At the same time, sometimes we may have a walnut tree moment or we might have a hard day, and that's when we can go back to our mentors and talk to them."
Washington is passionate about giving Odanga whatever support she needs to succeed. That passion began when she received her own mentor, Charlotte Govan, as a first-year teacher in 2007. 
"When I first met her, I modeled everything—the way she walked, the way she talked, the way she delivered lessons," Washington said. "She was definitely the guiding force that made me and helped me, and I wanted to give back and do that for someone else." 
Her advice for other mentor teachers is to remember what it felt like to be new to the profession. As for mentees, she said, "Don't forget to ask." The concept may be simple, but Washington said she has seen time and time again that mentorship can be "life changing." 
"It's so important for new teachers to have a mentor in their life," Washington said. "I wanted to be a marigold for a teacher in this building because I wouldn't have made it without my mentor. She's retired now, but we still talk to this day, and now Ms. Odanga is mentoring our cheerleaders. That cycle of giving back is awesome to see, and by the end of this year, she's going to be a great teacher."