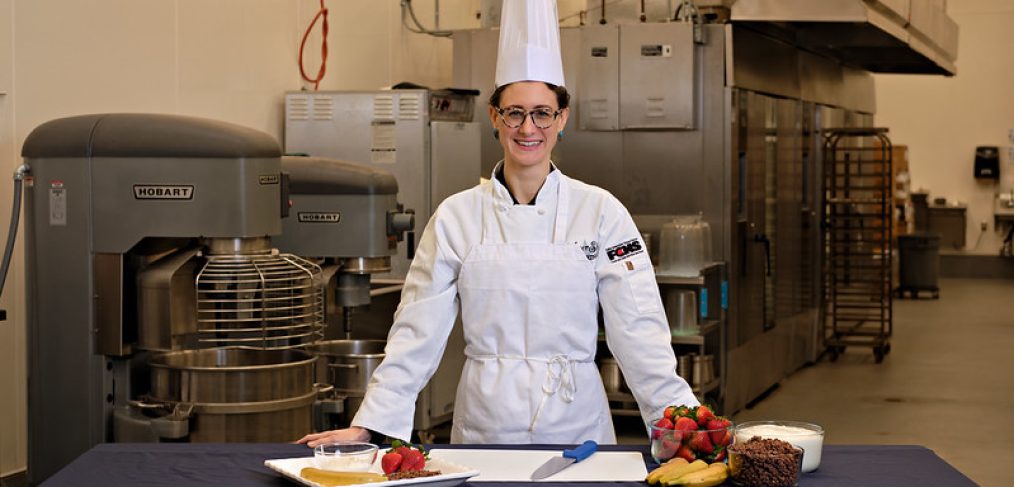 Transforming student lives with high-quality meals
International Chefs Day is recognized annually on Oct. 20 to celebrate the highly trained culinary professionals who dedicate themselves to helping others eat well. Dallas ISD is proud to have three chefs and four dietitians in Food & Child Nutrition Services to deliver wholesome meals to students throughout the year. 
Chef Betsy Wooldridge, a menu planning supervisor, has spent the past six years doing just that, and she has enjoyed every day of it. 
"The best part of my job is seeing the students' excitement when they get something new on their menu," Wooldridge said. "I come from a big Italian family in the northeast. Our culture is very food driven, and that inspired me to go into culinary nutrition. I find it really interesting, and when I got to Dallas ISD, I thought, 'This is right for me.'" 
Wooldridge works directly with the menu planning team to come up with new recipes, order food, organize taste testings and monitor data to determine student needs. But the process does not stop with them. Their decisions set off a "chain reaction that affects all these different departments," Wooldridge said. They partner closely with Food & Child Nutrition Services' campus-based staff and operations to ensure that students across the district are receiving the best possible meals. 
"In large districts like ours, we do everything," Wooldridge said. "Some districts have food service companies, so they have chefs and recipes that they can pull from, as well as trainings that are already provided. We manage everything here, so having the expertise of trained chefs allows us to make recipes that staff can understand." 
A recent menu planning success was last year's "brunch for lunch" in honor of National School Breakfast Week. Wooldridge said they served students a cinnamon roll, eggs and turkey sausage and had no idea how it would be received. When the meal promotion rolled out across the district, it was a huge success. 
"We actually had a cafeteria supervisor email with a picture of his students, and they were all giving us a thumbs-up," she said. "They just loved it. It was so cute." 
While some recipes are more popular than others, the feedback Wooldridge's team receives motivates her to continue refining her skills to pave the way for student success. 
"It's really important to make sure we are feeding the students wholesome meals because, as we know, some of the students in our district only get our breakfast, lunch and after-school meals. We want to make sure that they do not pass up lunch because there is something they do not like."
Dallas ISD appreciates all the outstanding culinary professionals in Food & Child Nutrition Services. Their hard work and determination is empowering students to be healthy, happy and successful in school each day.