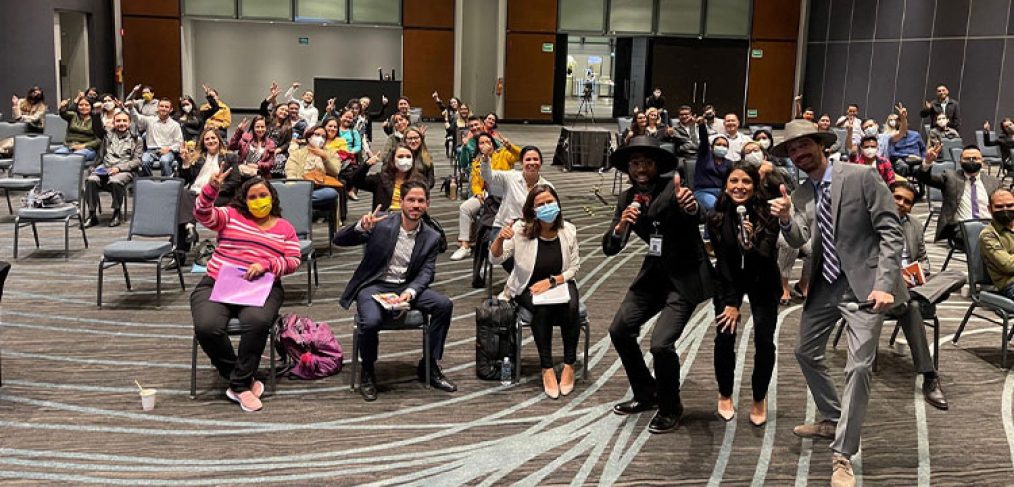 Teacher search goes international
Dallas ISD is committed to finding highly qualified teachers to accelerate student achievement across the district, and Human Capital Management is searching the world over for the best teachers. On World Teachers' Day on Oct. 5, we celebrated their recruitment efforts and the international teachers currently in our classrooms.
The district has been designated by the United States Department of State and the Texas Education Agency to sponsor H-1B and J-1 visas for eligible candidates. In the past few months alone, over 40 international teachers have come to call Dallas ISD home, and more are soon to follow thanks to HCM's upcoming recruitment events. 
In an effort to find highly qualified candidates in critical shortage areas for Dallas ISD, the Recruitment and Selection Department will travel to Monterrey, Mexico, and Bogotá, Colombia, to identify and recruit teachers for the 2023-2024 school year. 
There, they will provide candidates with information on how to become a Dallas ISD teacher through the district's two visa programs: the three- to five-year cultural exchange program called the J-1 visa or the six-year temporary work permit called the H-1B visa. 
The first international recruitment event will take place October 28-29 at the Hilton Garden Inn Monterrey Obispado, located at Avenida Constitucion 2050, Monterrey, NLE, 64000, Mexico. 
The second event will take place November 10-12 at the Residence Inn Bogotá Colombia, located at Calle 90 No 16-30, Bogotá, Colombia. 
Do you know teachers in those areas who might be interested in coming to Dallas? Help us spread the word about these upcoming recruitment events so interested prospective teachers and experienced educators can attend in-person information sessions as well as interviews.
Candidates seeking to take advantage of these events, may begin registration by visiting www.dallasisd.org/hcmjobfair. To learn more about the district's visa program and requirements, visit www.dallasisd.org/visa.
Meet one of the district's international teachers: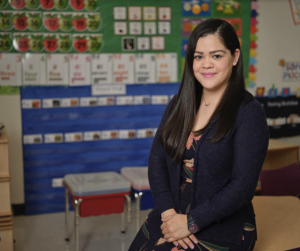 Ana Perez Garcia
Arlington Park Early Childhood Center
Pre-K 3 Bilingual
Years as a teacher: 11
Years in Dallas ISD: 5
How did you end up in Dallas ISD? 
I am from Mexico. I ended up in Dallas ISD because a friend of mine shared a post from Dallas ISD Recruitment on Facebook, and I saw it. I have to say that at first I wasn't sure of taking that big step because I was going to have to move to another country, all by myself, far away from my family, but then I thought, "Why not? This is what you've always wanted. Let's do this." So, here I am. Five years in the district, and it's the best decision I've ever made.
What led you to become a teacher?
I want to make a difference in the lives of as many students as I can. I want to help my students along this path and play a part in shaping the person they will ultimately become. As a teacher, we are more than an educator. We are a mentor, a confidant and a friend. Becoming a teacher lets us impart life lessons our students will never forget and puts us in a position to influence their behaviors, strengths, weaknesses and imagination, especially at the grade level I teach.
What is your favorite part of being an international teacher?
My favorite thing about being an international teacher is having the opportunity to share my customs, beliefs, ways of teaching, experiences and more. I also appreciate having the opportunity to learn from peers, parents and students.
Do you have any favorite student success stories? 
I would say that every day I have a success story to tell. I teach pre-K 3, so it is their first year in school. They come to me with limited experiences, so they are learning something new every day. Seeing how they achieve something, no matter how small it is, or how they learn a new word in a new language, makes me feel proud of them. I encourage them to feel proud of themselves by making a big deal out of it. Seeing their happy faces is priceless!
Why should other international teachers consider making the move to Dallas ISD? 
Other international teachers should consider moving to Dallas ISD because of the diversity they will find in the district. Most importantly, they will get to help a lot of students and their families who come from similar cultures and experiences but also families who are interested in having their child learn a second language and culture. The positive impact they will make on their students and families will be something that will give them a great sense of gratification.