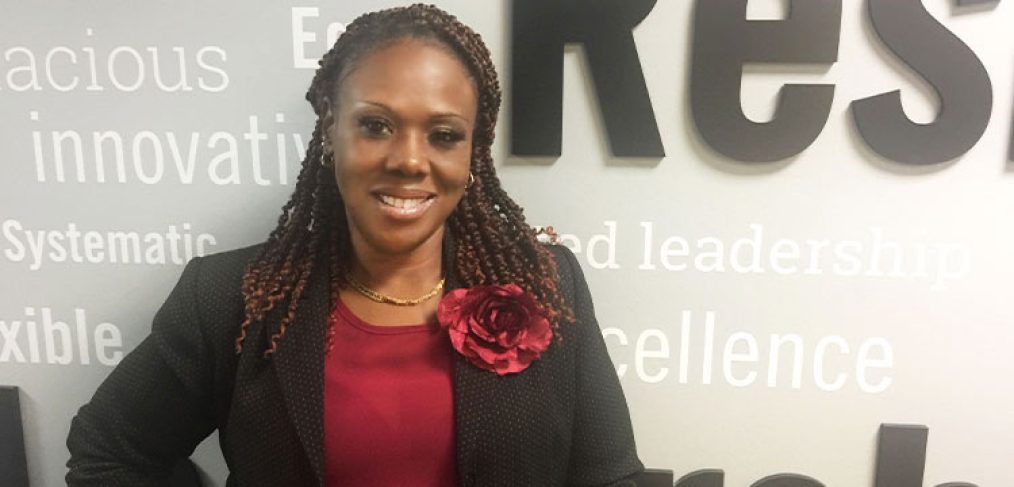 Making memorable moments with the Core 4
National Customer Service Week is celebrated annually in October to highlight the crucial work professionals do to make customer service happen every day. Dallas ISD is home to countless Core 4 champions who practice being fast, focused, flexible and friendly every day, and all staff are encouraged to show appreciation for their colleagues who are going above and beyond. 
Tamara Handy, an executive assistant in School Leadership, understands what it means to practice the Core 4 culture tenets in everything she does. She has worn many hats in her 15 years at Dallas ISD, starting out as an elementary teacher's assistant and becoming an office manager, administrative assistant and executive assistant. 
"I have had the pleasure of welcoming students and families new to our country and to Dallas ISD, supporting bus duty, chaperoning students on field trips, mentoring students and working with various community partners to support special events and campus-wide incentives," she said. "The journey has been awesome, a true blessing. I love the work that I do and embrace  all the opportunities I have to serve and support in all capacities. It brings me so much joy and appreciation to know that I can make a difference while building memorable moments, but I will never forget how I started." 
The proud product of Dallas ISD grew up and graduated in West Dallas and credits Willie B. Curry, her 11th-grade business teacher and mentor at L.G. Pinkston High School, with inspiring her to pursue a career in education and service. 
"I'll never forget, I went on a job interview trip with Mrs. Curry and some other students," Handy said. "I was just planning to offer support to my peers, which I did, but believe it or not, I was called in by the executive director of the program, and she asked to interview me. I got the job, and throughout high school and college, I excelled there on so many different levels personally and professionally. Mrs. Curry gave me that foundation and encouraged me to stay grounded, be humble and always listen to and be open to feedback." 
By the time Handy began working as an office manager in Dallas ISD, she met Principal Dayanna Kelly—who is now an executive director—and gained yet another priceless perspective on customer service. 
"Principal Kelly was not just a principal but a mom at school to so many students," Handy said.  "She was a true mentor and an overall courageous leader with so much passion. Working alongside her gave me that vision and light to want to do more and serve more—believing there is no limit when you desire to make a difference." 
To Handy, practicing the Core 4 culture tenets looks like learning from leaders around her and bringing passion, dedication and determination to her job to transform lives and strive for greatness no matter what hurdles she may face.  
That mindset has paid off in the way she has inspired countless colleagues to embrace outstanding Core 4 service as well.
"Tamara Handy is one of the hardest working and most thoughtful people you could ever meet," said Executive Administrator Lisa Phillips, who worked under Handy for four years. "She has always gone above and beyond and stays late or comes in early to accomplish tasks. She celebrates everyone, and she has encouraged me to be the best person I could be. She deserves the best because she is the best!" 
Handy now proudly serves in School Leadership, supporting Deputy Chief Roshonda Clayton-Brown, and she said she is honored to be a part of such an amazing team that "stands ready to excel in excellence" through the Core 4. 
The Core 4 culture tenets define the Dallas ISD experience and make every encounter feel like home. Take some time to thank a customer service professional today who has transformed lives in the district and made memorable moments with everyone around them.
"I've always been a behind-the-scenes kind of person," Handy said. "I do what comes to heart and feels right, but as my grandmother would say, 'Don't be afraid to be great or to let others see that you can be great—because you are great.'"