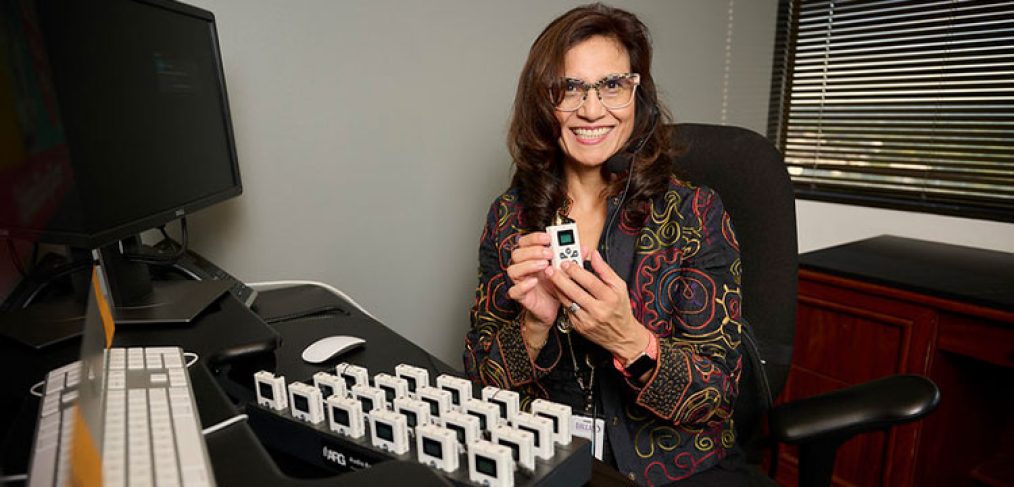 Dallas ISD is home in many languages
Interpreters around the world are celebrated annually on International Translation Day on Sept. 30 to pay tribute to the work they do in facilitating dialogue and creating understanding and cooperation. Dallas ISD is home to a small but mighty team of 25 dedicated Translation Services professionals, and they are going to great lengths to transform student lives across the district. 
"It's very rewarding," said Adriana Cabeza, a supervisor with Translation Services. "Many times it doesn't feel like work—it just feels like we get to help. When we arrive at different schools, it's so welcoming because everyone is happy to see you. The staff is happy and the parents are excited that we are there, because they know we are going to help bridge that language gap." 
Dallas ISD's Translation Services team has expertise in American Sign Language, Arabic, Burmese, Chin, French, Kinyarwanda, Kirundi, Portuguese, Spanish and Swahili. They provide the following services to staff and district students/families: 
Interpreter hotline

—Interpreters operate a telephone-based tool available Monday through Friday to bridge the language gap between school staff and limited English-proficient parents. 

Document translation

—Interpreters translate brochures, curricula, handbooks, letters, manuals, emergency messages and more to increase parent involvement and understanding. 

Interpretation—

Interpreters attend regular sessions including ARD meetings, community events, parent/teacher conferences and workshops to provide efficient translations for families. 

Academic tutoring

—Interpreters work with some groups of students who are new to the country to orient them to school practices and expectations and assist them with language learning. They usually meet with the same students twice a week for a few years until the students are ready to be independent. 
Interpreters covered an average of 4,000 meetings last school year. During the COVID-19 pandemic, this number was even higher because the whole district depended on online meetings to communicate with parents, said Ivette Weis, translations director. The work is nonstop, since after regular hours, the interpreters continue to provide services at evening school and community meetings.
Their schedules may be busy, but the team meets students and parents where they are to make  Dallas ISD feel like home in any language. Whether they are helping Special Services connect a student to resources, working with a campus nurse to communicate that a student is feeling sick and needs to be picked up or alerting a parent to an attendance issue, they are making a difference. 
"It's so important to get information to parents," said Alejandra Granell, translations specialist. "I remember going to schools early on in the nine years since we've started, and we'd have zero parents there. Now, I go to schools, and I have parents that I started with in elementary school that recognize me when they reach high school because they've come to the meetings, and then they spread the word that interpreters are available." 
"You feel so good after a meeting is done and you were able to help," Cabeza agreed. "It's very fulfilling." 
Dallas ISD appreciates all the Translation Services team members who are working tirelessly to make memorable moments and provide equal access to all students and families. The district is home thanks to efforts like these! 
Pictured above: Translation Supervisor Alejandra Rios