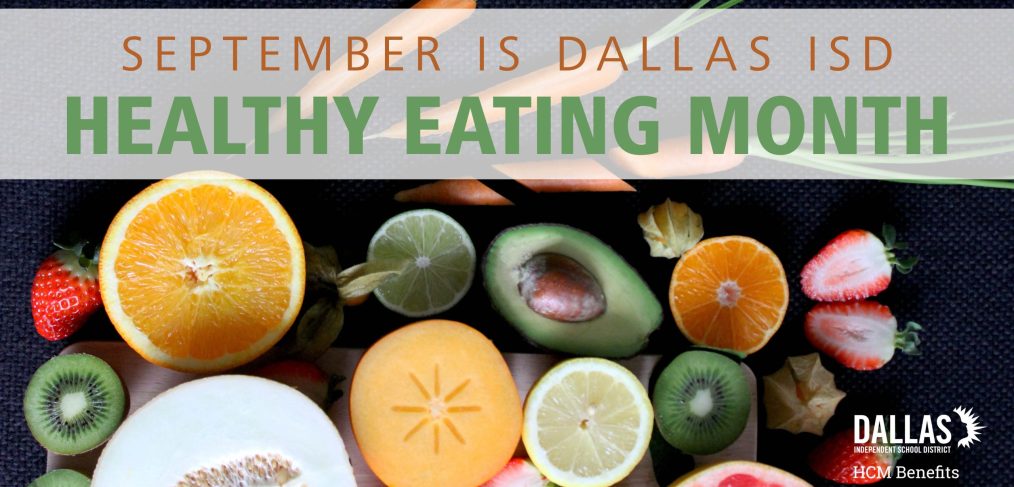 To your health
Good nutrition and a balanced diet can improve physical and mental well-being. For the month of September, the Benefits Department, in collaboration with Food and Child Nutrition Services, will launch Healthy Eating Month to share a variety of resources and information to help staff make healthier eating choices.
Throughout the month, we will focus on nutritional tips, recipes, and cooking demonstrations that help you continue or jump-start a healthy eating lifestyle. Whether you want to lose a few pounds before a trip or wedding day, or you want to feel good inside and out, Dallas ISD health and nutrition experts are there to help. 
In addition to online resources, experts will be available during two webinars in September to answer questions about the benefits of healthy eating, how to make easy changes to your diet can reduce the risk of hypertension, diabetes, and what constitutes healthy eating to improve your overall health. To register for the webinars, click on your preferred date:
You can visit www.dallasisd.org/benefits for the complete list of tips, recipes, and cooking demonstrations. The month will include:
Weekly communication featuring nutritional tips, how to eat healthy, nutritional recipes and much more.

Recorded cooking demonstrations by FCNS chefs to prepare easy, healthy meals.

Recorded interviews covering nutritional health topics such as managing or mitigating risk of hypertension, diabetes, and other health conditions that can be improved with a healthy diet.

Recipes 
This healthy eating campaign is one of the many ways—such as the PINK OUT for breast cancer awareness, GO RED for heart health, flu clinics, and Mental Health Month in May campaigns—sponsored by the Benefits Department to support Dallas ISD employees' total health and wellness program.