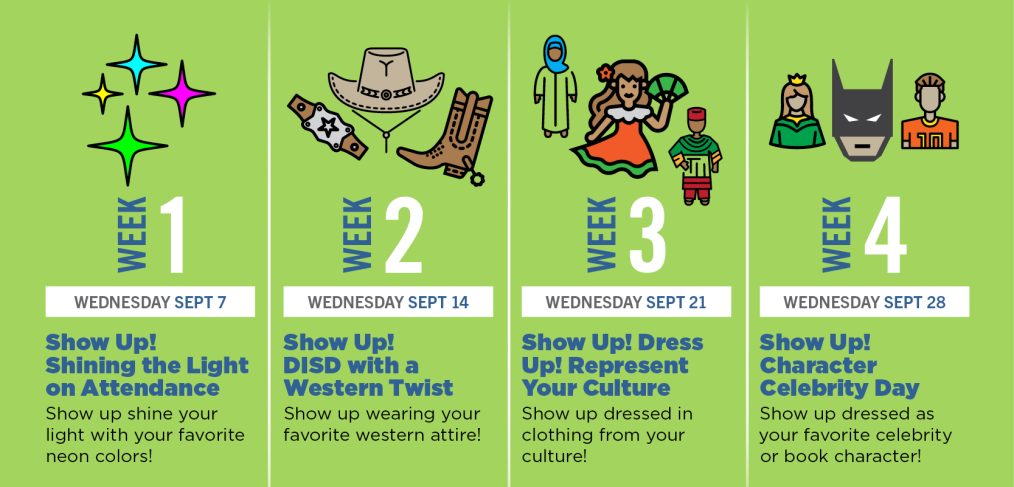 Celebrating Attendance Awareness Month: Show Up! Attendance Matters
Dallas ISD is celebrating Attendance Awareness Month during September to promote strong, consistent attendance habits that will set students up for success at all grade levels. 
The theme for the 2022-2023 school year is "Show up! Attendance Matters." Parent Services has coordinated several exciting competitions and activities for students and staff to help build routines, increase engagement, provide access to resources and support learning. 
Weekly kickoffs 
Each Wednesday throughout the month, central and campus staff are encouraged to participate in weekly attendance awareness kickoffs. The four themes are "Shining the Light on Attendance" on Sept. 7, "Dallas ISD with a Western Twist" on Sept. 14, "Dress Up! Represent Your Culture" on Sept. 21 and "Character Celebrity Day" on Sept. 28. Pick out your best costume, and come ready to motivate students!
Districtwide champion school competition
Every school across the district will compete against campuses on their specific calendar—base, Intersession or SDR—to determine which school has the best overall attendance rate in the month of September. One campus from each calendar type will be declared the "Champion School." 
Aim for perfect attendance
Students with a perfect attendance record throughout September will be entered into a raffle for a special prize. One student will be selected from each trustee district, so help us spread the word to get students involved. 
Social media challenge
Get creative to help our communities #ShowUpDallasISD.  Schools and departments are invited to create a 60-second video about the importance of school attendance and upload it on social media using the hashtag #ShowUpDallasISD. The video with the most likes, shares and tweets will receive a prize. Click here for a full list of rules and guidelines.
"Attendance has an impact on students' academic performance and success in the long run, so from the minute that a student is actually enrolled in school, we want to help them create good attendance habits," said Sally Salinas with Parent Services. "Our main goal is not only to focus on attendance during the month of September, but to continue the momentum throughout the school year." 
To learn more about the district's Attendance Awareness Month campaign or to find additional resources, visit Parent Services at https://www.dallasisd.org/Page/57331.