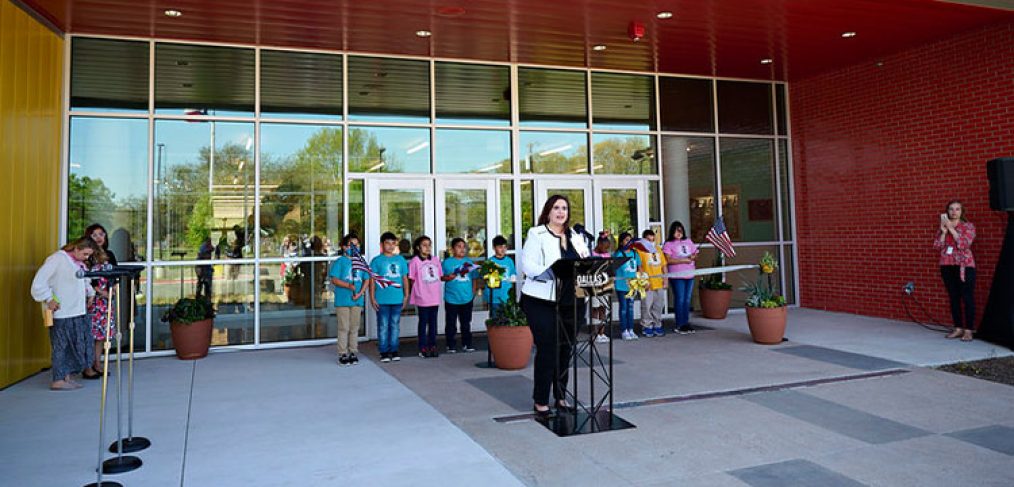 Bond 2020 update: Schools supporting schools 
Students and staff at Nathaniel Hawthorne Elementary School are celebrating their first full school year at their new $26.5 million home, which was funded by the 2015 bond program, and they are not alone in their transition. About 450 students from John Quincy Adams Elementary School will be joining them as neighbors on the former Nathaniel Hawthorne campus for two years while their own school is under construction.
"I am grateful that we are able to support our students, because at one point there were conversations to divide John Quincy Adams' students into different campuses," said Ana Fernandez, Nathaniel Hawthorne's principal. "Just knowing that they are together, that they don't have to lose that ownership of who they are as students, I'm really happy."
John Quincy Adams will receive a replacement school thanks to the 2020 bond, which provided $3.2 billion to fund repairs and upgrades to more than 200 of the district's 230 campuses. While the John Quincy Adams community awaits their future ribbon cutting ceremony, they are enjoying their temporary home at the former Nathaniel Hawthorne.
The transition has been running smoothly so far. Student Transportation Services teams are picking up John Quincy Adams' students from their former campus and delivering them safely to their temporary home each day, and the two schools developed a staggered arrival and dismissal schedule to prevent traffic jams. 
Even better, art and music teachers from the two schools are collaborating across the campuses to bring exciting new activities to their students and to create relationship-building opportunities.
Fernandez said the community support has been amazing since the beginning. The two schools organized several community meetings and social media announcements to prepare their families for the transition. After seeing Nathaniel Hawthorne's new campus, students and staff are especially excited to see the results of John Quincy Adams' completed bond project. 
"When we first brought our students to the campus, one student came to me and said, 'Ms. Fernandez, this looks like a university,'" Fernandez said. "I told him, 'This is for you. This is yours.' It has been so exciting. You can feel and you can see the difference in how the communities have been impacted." 
To learn more about Dallas ISD's bond projects, visit https://www.dallasisd.org/bondinfo.