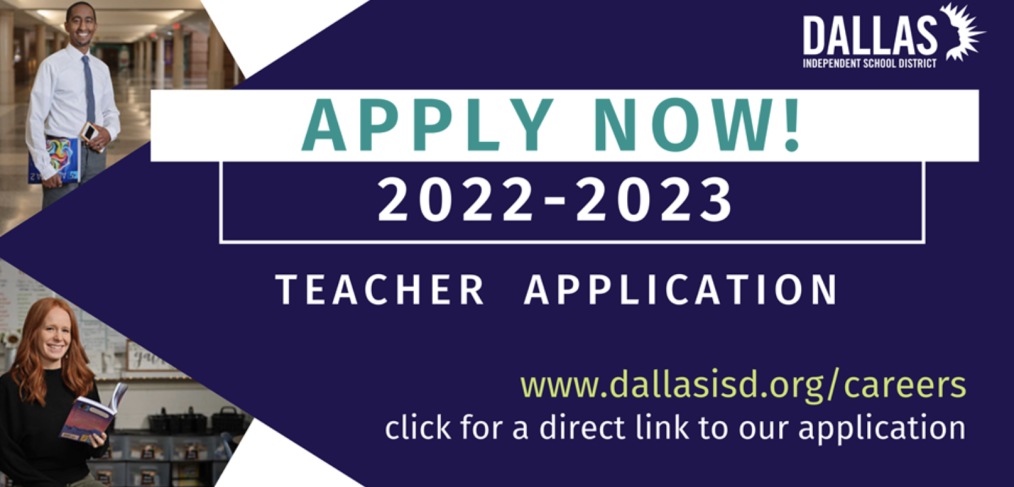 New opportunity for aspiring teachers  
Do you have family or friends who have a conferred degree and are ready to join the classroom? Dallas ISD is now offering new certification exemptions for aspiring teachers seeking to enroll in our certification program.  
Dallas ISD has expanded new certification exemptions for professionals who do not currently hold SBEC certification/teaching credentials when high-quality, certified teachers are not available in hard-to-fill and high-demand vacant positions. 
Flexibility on teacher certification has been expanded to include the following: 
EC-6 core subjects

Secondary ELAR, mathematics, science and social studies
These newly expanded areas for a District of Innovation (DOI) core content local certification exemption will meet or exceed the minimum academic requirements currently required for Texas-based Alternative Certification programs per TAC §227.10 and include the following:
Bachelor's degree conferred

Overall GPA of 2.5 or higher in the content field

Core subjects EC-6: 24-semester credit hours in a combination of subjects directly related to the elementary curriculum

Secondary (7-12): 24 semester credit hours in the subject area
Additional exemptions also include the following for non-certified experienced professionals:
Ninth- to 12th-grade career and technical education (CTE)

Ninth- to 12th-grade dual credit

World languages

Visual and performing arts 
Educators can begin their process by applying through the 2022-2023 Teacher Application and are eligible for the new teacher incentives. If you have questions regarding DOI qualifications, teacher certification or need assistance, please contact the Certification Department at 972-925-4260 or certification@dallasisd.org.