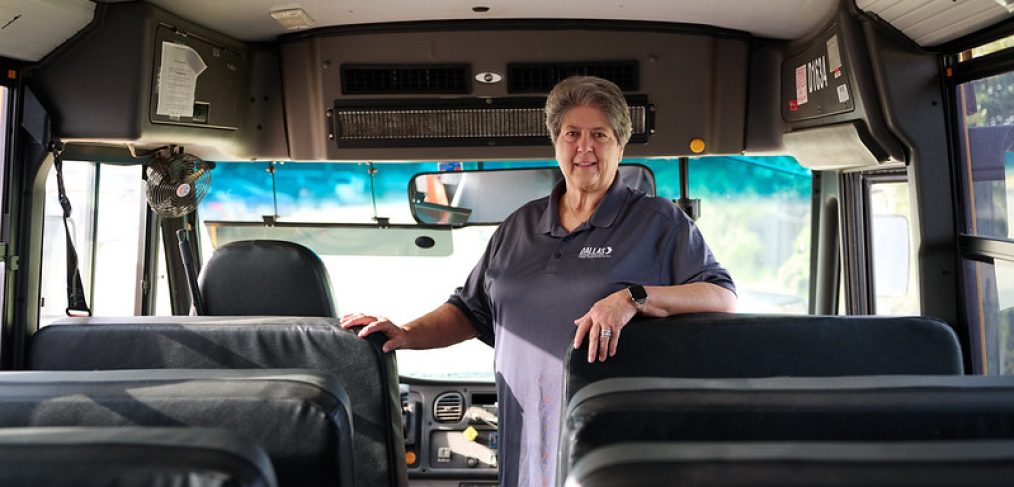 Working from an "office on wheels" 
School bus driver Edith Rodarte has been transforming the lives of students along her routes for the past 40 years. She loves working from her "office on wheels," especially when she gets to watch students grow up.
"I had one high school student who was talking to me about moving on to college—what she was going to do and where she had been accepted," Rodarte said. "It was just an awesome thing to be a part of that. These kids care enough about their drivers to include them in their travels through life." 
Working for Dallas ISD's Student Transportation Services is no easy feat. Rodarte is usually at her bus by 5 a.m. to prepare for the day ahead. The rest of her shift passes in a flurry of organizing routes, delivering students safely from point A to point B and coordinating with the bus lot to meet every need that arises. She sometimes does not finish her route until 6 or 7 p.m., but for Rodarte, every minute is worthwhile. 
"It's a very big family environment," she said. "We care about each other and take care of each other, and that's with all the drivers, monitors and staff."
Rodarte is passionate about helping Dallas ISD educate all students for success. Not only is she a proud graduate of Dallas ISD, but she also grew up dreaming of working for a school district. When she realized that teaching was not the right fit for her, in 1982, she turned her attention to driving buses for Dallas County Schools, where she worked until Dallas ISD took over student transportation in 2017. 
Providing timely, safe and efficient transportation to students across the district requires focus and flexibility, which the Student Transportation Services department has in spades. Rodarte has navigated broken down buses, bad weather and more, all while feeling confident that the district will support her no matter what. 
"Dallas ISD has taken care of me in every way I've ever needed to be cared for, even through illnesses and surgeries," Rodarte said. "I love it. I absolutely love it." 
If you know anyone who is interested in joining the Student Transportation Services family and transforming student lives on the go, the department has several positions available, including CDL Driver, CDL Trainee and MPV Driver. Visit https://www.dallasisd.org/transportation for more information.