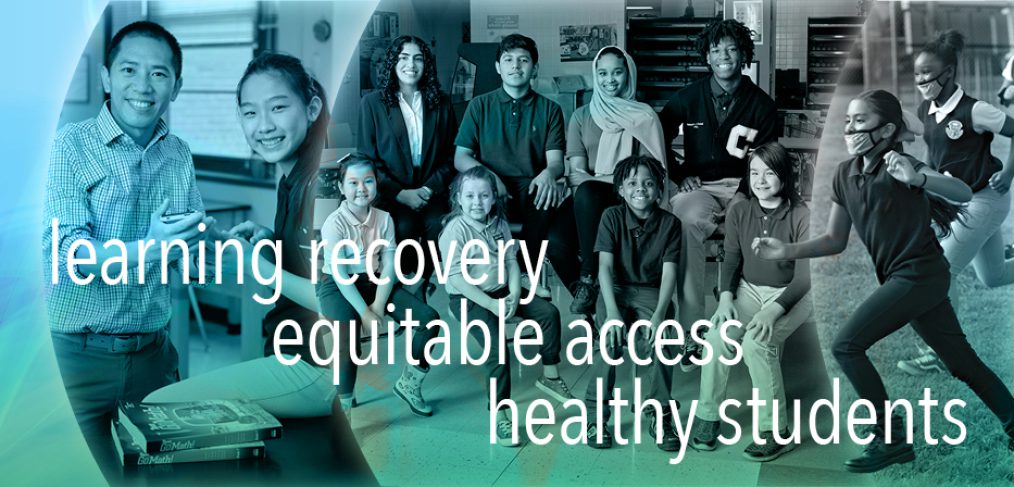 A classroom at home 
Dallas ISD is committed to providing an excellent education to every student in the district, so when the COVID-19 pandemic put immunocompromised families at risk, the district searched for innovative solutions like a virtual academy. 
With about $360,000 allocated from the Elementary and Secondary School Emergency Relief (ESSER) fund, Dallas ISD hired staff to oversee and support the virtual program during the 2021-2022 school year. Through the worst of the pandemic, nearly 60 teachers from different campuses stepped up to provide virtual instruction to approximately 1,100 students. 
Derinda Hunter, the director of the virtual academy, said they opened enrollment to all no-show students under the age of 12 who could not receive the vaccine and to any medically fragile students in that same age range. They also extended spots to students who received recommendations from their doctors or whose family members became immunocompromised and could not risk having their child carry the virus home from school. 
"During  the pandemic, we wanted to make sure we sent the message that we do care about our students, we do care about the families," Hunter said. "Health is important, and education is important, so this is how we responded to supporting these families during the pandemic." 
The virtual academy followed the base calendar for the school year and ran in nine-week cycles. After each cycle, families were able to decide to send their children back to in-person classes at their home campus or continue remotely. The virtual academy had about 690 students enrolled in its most recent fourth cycle. Most of these students were the same ones who first entered the program, but their number decreased as their families grew more comfortable with face-to-face learning. 
Students at the virtual academy followed a similar schedule to their in-person counterparts. They logged in around 8 a.m. and dove into four blocks focused on content classes: math, science, English and social studies. Two other blocks were built in for specialized subjects like world languages and physical education. The students then finished the day with a period for intervention. This intervention time allowed teachers to give them extra support, whether they were struggling to keep up or required additional acceleration opportunities.  
The success of this initiative was due in part to the creativity it sparked among teachers, students and parents. Teachers had to find new programs and methods to successfully engage their students from home, while students and parents had to adapt to online learning and gain new virtual skills. The initiative also gave families a way to stay with Dallas ISD when they did not feel safe on campus. 
"Our parents in the program swear by Dallas ISD," Hunter said. "They loved their campuses, and wanted to remain in the district. So one of the big successes of having the virtual academy is that we were able to retain those families who truly did not want to leave. They consider us family." The virtual academy was intended to last only a single semester, but the continuing severity of the pandemic extended it. Overall, the program allowed Dallas ISD to meet families where they were and to provide a safe, high-quality alternative to in-person instruction. 
"We're all human, managing life in different ways," Hunter said. "We're just trying to be compassionate and supportive as much as possible, and that is the message I share every time that I'm speaking to a family or a staff member." 
To learn more about how the Virtual Academy works, visit https://www.dallasisd.org/virtualacademy. To learn more about Dallas ISD's pandemic relief and recovery efforts, check out https://www.dallasisd.org/esser.