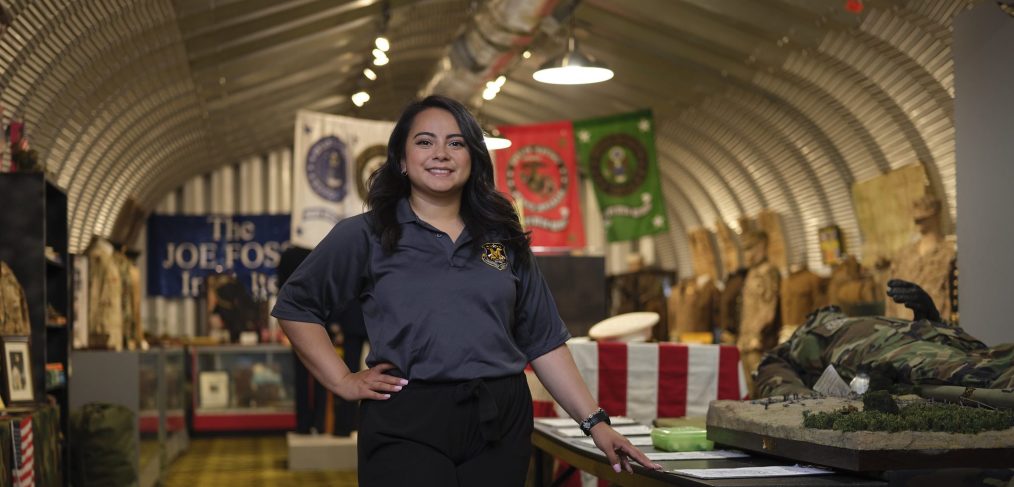 Celebrating 10 years of history
Stephanie Escobar was a student at Thomas C. Marsh Middle School when the campus' military museum was founded by Cpl. David Bates, now an assistant superintendent in Dallas ISD. Fast forward 10 years, and Escobar can still be found at the museum but now as the school's Leadership Cadet Corps instructor, leading the next generation of cadets.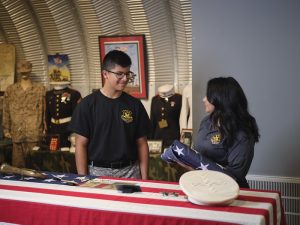 "The military museum is an extension of our classroom," Escobar said. "Our students consider it a second home, a place to learn about military background and terminology."
Although the museum—celebrating its 10th anniversary this year—was not open as frequently as its leaders would have liked this school year due to Covid restrictions, it was open for a Veterans Day event where the community was able to visit.
"The museum really does bring everyone together through the Leadership Cadet Corp (LCC) program," Escobar said. "The program is a legacy," especially in her family.
Her older brother, William Benitez, was a part of it, as were relatives of some of her students and co-workers at the renamed Marsh Preparatory Academy. The mission of the cadet program is to help students improve their academic, social, communication, and leadership skills.
 "The military museum serves as a staple for the community," she said. "It brings people together from all different realms. And our students take pride in knowing that we have such a great thing going on at Marsh. We also have students who serve as curators, making sure the museum is up to par."
Housed at the museum are uniforms, photographs, medals and memorabilia representing the military experiences of veterans in the Dallas community.  The museum is 100% community-funded, and many of the items on exhibit have been donated by the community, including former Cpl. Miriam Gaytan, the former LCC instructor at Marsh, who donated her uniform.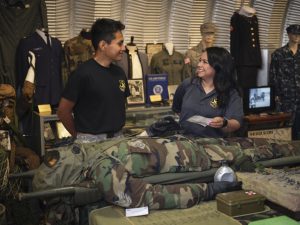 Escobar joined the cadet program when she was in seventh grade and was inspired by some of the things Bates taught about becoming leaders and the importance of having discipline and integrity to become a leader and lead the cadets who won second place in a national competition. In the eighth grade, she was inducted as the first female commanding officer for the program since its founding in 1999. The cadets won the national championship that year, reclaiming a title they had held years before.
"We came back from the national competition in Kansas wanting to do something even bigger," Escobar said, "and that's when we began the military museum. We were able to do it because the community contributed not only their items but also their funds. In one year, we were able to raise about $99,000, enough to ensure that the museum was up and running. It all started with an idea that became a reality."
Escobar went on to graduate from W.T. White High School and The University of Texas at Arlington, where she received a degree in public health. She is currently enrolled in a master's program at UT Arlington, studying social work with an emphasis on mental health and substance use.
"Being a Leadership Cadet Corp instructor is amazing because I always wanted to give back to my community, and this is the best way I can do that," Escobar said. "It only takes one person to believe in a student and make a difference in their life. Cpl. Bates and Cpl. Gaytan had that belief in me, and it is my hope that I can continue that legacy."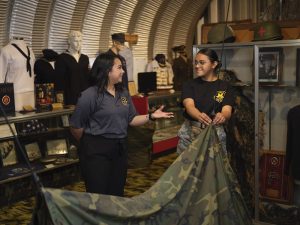 The corps has 162 students enrolled in its program post-COVID, Escobar said, "Next year we plan to have 200+ students enrolled. The plan is to continue to build and do bigger things."