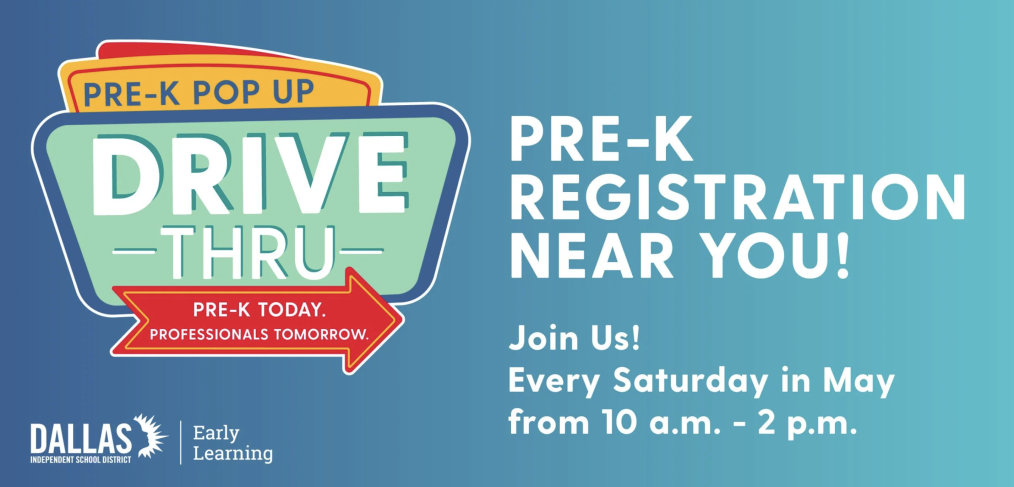 Spread the word for drive-thru enrollment
Dallas ISD is making enrolling for pre-K so easy, parents won't even have to leave their cars. Early Learning is holding Pre-K Pop Up Drive-thru events every Saturday in the month of May, and wants everyone to spread the word. 
Early Learning staff will be ready to help families register their students for pre-K from the comfort of their own cars between 10 a.m. and 2 p.m. each Saturday in May. If families have children in other grades, the same services and support will be provided. 
Other Dallas ISD teams, including the Office of Family Engagement and the Homeless Department, will be there to provide much-needed resources to families, including HIPPY registration, free school supplies, free uniform sign-ups and social and emotional learning opportunities. Families may even catch a glimpse of staff members dressed up as Clifford the Big Red Dog and other book characters. 
"It's a lot of fun," Ramirez said. "We're doing everything we can to provide all the help and services our families need, and spreading the word would really help us out. Whether you're a teacher, administrator, custodian or TA, it does not matter. Anybody can spread the word."
The first Saturday event at Francisco F. "Pancho" Medrano Junior High School was a success, and Ramirez cannot wait to support families at the three remaining locations: 
May 14 – Lincoln High School and Humanities/Communications Magnet | 2826 Elsie Faye Heggins St., Dallas, 75215

May 21 – South Oak Cliff High School | 3601 S. Marsalis Ave., Dallas, 75216

May 28 – H. Grady Spruce High School | 9733 Old Seagoville Road, Dallas, 75217
For more information, please visit www.dallasisd.org/prek or call the Pre-K hotline at 214-932-7735.