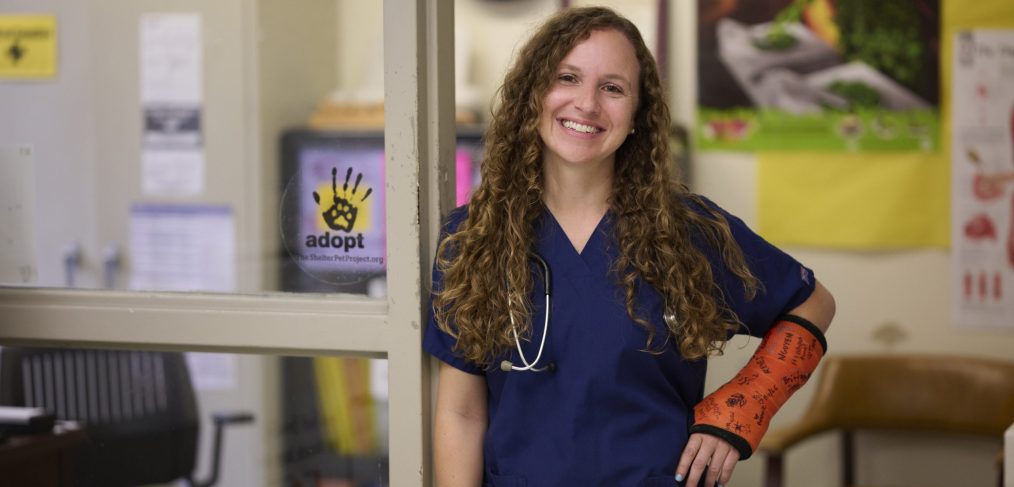 Celebrating school nurses
Nurse Emily Geeslin, or "Nurse G" as her students call her, is passionate about bringing health promotion and disease prevention to North Dallas High School. Not only has she successfully pushed vaccination events, screened students for vision and hearing problems and provided emergency care to students in need, but she has also fostered community relationships that are transforming student lives every day. 
For all those reasons and more, Principal Katherine Wanserski Eska jumped at the opportunity to nominate Geeslin as the 2021-2022 Health Services Employee of the Year, a title Geeslin earned just in time to celebrate National School Nurse Day, which took place on May 11. 
School nurses across Dallas ISD have stepped up amidst the COVID-19 pandemic in new, innovative ways, and their passion and dedication to their communities have inspired everyone around them.
In Eska's eyes, Geeslin is "a true heroine on our campus."
"Beyond standard nursing responsibilities, I have witnessed Nurse Geeslin's magic," Eska said. "As we saw an increase in mental health concerns with our students, Nurse Geeslin complemented these changes with an intense focus on student relationships, and many students on our campus have grown to confide in Nurse Geeslin in ways I hadn't imagined."
For Geeslin, being a school nurse involves so much more than providing first aid. Her main goal is to remove health barriers so students can show up in the classroom every day ready to learn. One memory that stands out was when she conducted a vision and hearing screening on a student who was new to the country. Geeslin realized that he had an undiagnosed hearing impairment and helped refer him so he could get the accommodations he needed to thrive. 
Even consistent routines like reminding students to drink more water or to eat regularly add fuel to Geeslin's enthusiasm for her work. 
"It has been so rewarding and so neat to be a part of this," she said. "I don't have a classroom of students on the daily, but I get to see some students and walk with them through their health journeys. I love that."
Adapting to the pandemic presented Geeslin with a new set of obstacles, but, as usual, she rose to the challenge. She reprioritized tasks and adopted a mindset of flexibility to support North Dallas students through the many ups and downs. While it has not been easy, her team has helped her move forward every day, as have the students who "brighten my days and make me laugh," she said.
She never expected to be nominated for Health Services Employee of the Year or to be in the limelight for all her hard work, so when she saw Eska's nomination letter, she was touched. 
"I couldn't even read it for a few days because I knew it was going to be really sweet," Geeslin said. "The fact that I was nominated was an honor, but just to be chosen, I'm shocked. There are so many good nurses in Dallas ISD. They're so creative, and they work really hard, and they love their students." 
Congratulations to Geeslin as well as the seven Health Services Employee of the Year finalists: Lisa Jones of Atwell Middle School, Margie Covarrubias of John F. Peeler Elementary School, Pat Johnson of Mockingbird Elementary School, Stephanie Thomas Price of Kathlyn Joy Gilliam Collegiate Academy, Jessica Sundin of Lakewood Elementary School, Rosa Brown of Arcadia Park Elementary School and Madeline Bark of Frank Guzick Elementary School.