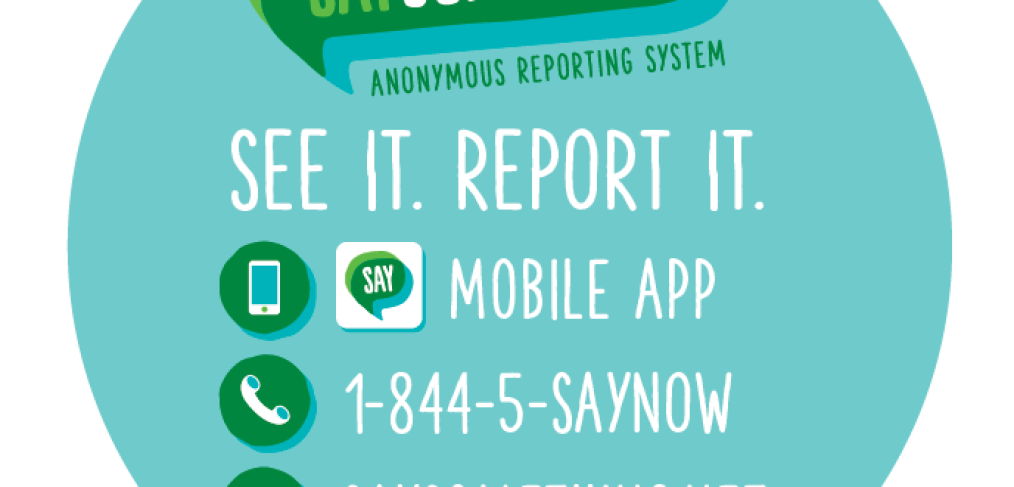 Say something for safety
Everyone deserves to feel safe and supported while they are on our campuses every day. The safety and well-being of our students and staff is our top priority and requires a proactive approach to violence prevention. That is why Dallas ISD is introducing the Say Something Anonymous Reporting System. Students will be trained on when and how to use this system starting in April.
This research-based, age-appropriate violence prevention program will teach students and staff to identify the warning signs of potential violence or self-harm, including threatening or harmful behavior and harassment. 
Say Something will offer secure ways to report safety concerns 24/7 through a hotline, website and app. Students will be empowered to report school threats and personal crises like abuse, depression, sexual harrassment and self-harm. Every time a report is submitted, trained crisis counselors will gather essential information and share details and next steps with relevant school teams and law enforcement. The teams will then address the threat and provide solutions. 
Anyone in need can submit a tip through www.saysomething.net. The free mobile app is available for download from the Apple App Store and Google Play, and the hotline can be reached at 1-844-5-SAYNOW.
More than 5,000 schools have launched this program nationwide, leading students to report feeling safer in their classrooms—and leading to lives being saved! The Say Something Anonymous Reporting System has been proven to prevent school shootings, gun threats and suicide attempts. It has also been shown to reduce bullying, self-harm and drug use in schools. 
Sandy Hook Promise was founded by families whose loved ones were killed during the 2012 Sandy Hook Elementary School tragedy. Their efforts and determination have prepared more than 14 millions teachers, students and parents to recognize and report signs of potential violence, and Dallas ISD is proud to take action alongside them. 
Be on the lookout for more Say Something Anonymous Reporting System announcements and training dates. It all comes down to this: If you see something, say something. Together, we can keep our communities safe.