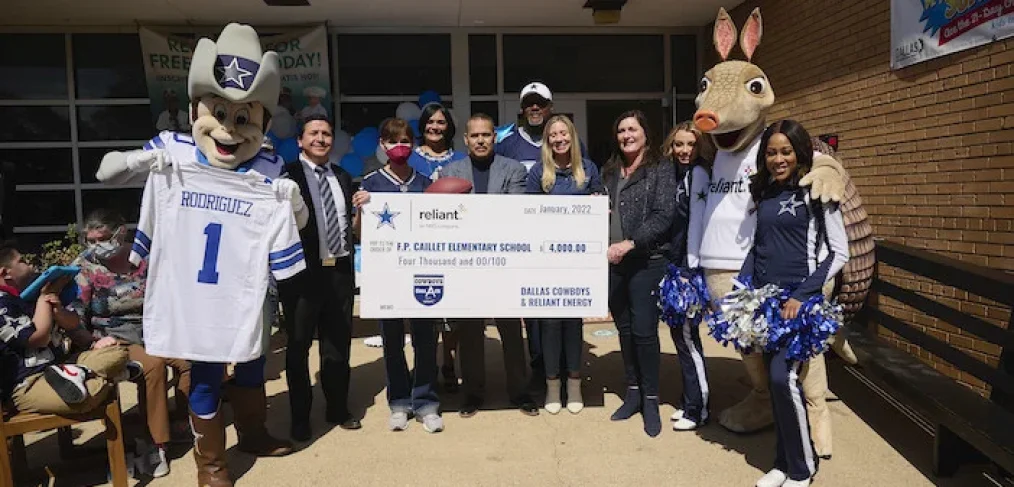 Class Acts: Dallas Cowboys and Reliant surprise Dallas ISD teachers 
The Dallas Cowboys and Reliant recently teamed up to support the importance of reading education, cultivating  a love for literacy and highlighting educators in the DFW area who are transforming their schools and communities through the Class Acts Program Powered by Reliant. 
They surprised two Dallas ISD teachers—Christine Rodriguez and Patricia Cortez—each with $4,000 grants to use toward enriching the lives of their school and community. The presentation featured Cowboys Legend George Teague, Andrea Russell, Vice President of Reliant, Mascot Rowdy, Reliant Mascot Hugo and more. Cowboys Class Acts honors teachers that constantly encourage, lead and strive for excellence in the classroom. Once a month from October to February, the Cowboys and Reliant recognized a total of six teachers in the DFW area for their phenomenal work empowering youth.
Christine Rodriguez | F.P. Caillet Elementary 
Christine Rodriguez has served in the Dallas ISD for 22 years, with the majority of her tenure teaching students with the most severe and profound disabilities. After completing her teaching certification, she took the position of Activities of daily living teacher at Caillet Elementary where she has remained for the past 16 years. She supports her students with exceptional compassion and dedication and brings her experience and passion to her classroom, ensuring her students and optimal educational programs and their families the knowledge and security of their children are safe, secure, and well cared for in Rodriguez' capable hands.
Patricia Cortez | Casa View Elementary 
Patricia Cortez is not just a wonderful teacher; she is also highly respected in the Dallas community. She was a scholar at Casa View Elementary from 1995 to 2003 and few years later and many years of study, she returned to Casa View as a teacher. Because of this, parents and students see her as an important role model and a great inspiration to their neighborhood. Students love her because she is kind, loving, fun, and cares about them. She is especially gifted at working with emergent bilingual students on math concepts and she constantly and patiently develops number fluency, vocabulary and problem solving skills in her class. Additionally, she is always available to support other teachers with technology, math, class coverage, classroom management, etc. She constantly demonstrates leadership, teamwork and comradery with all teachers on the campus.