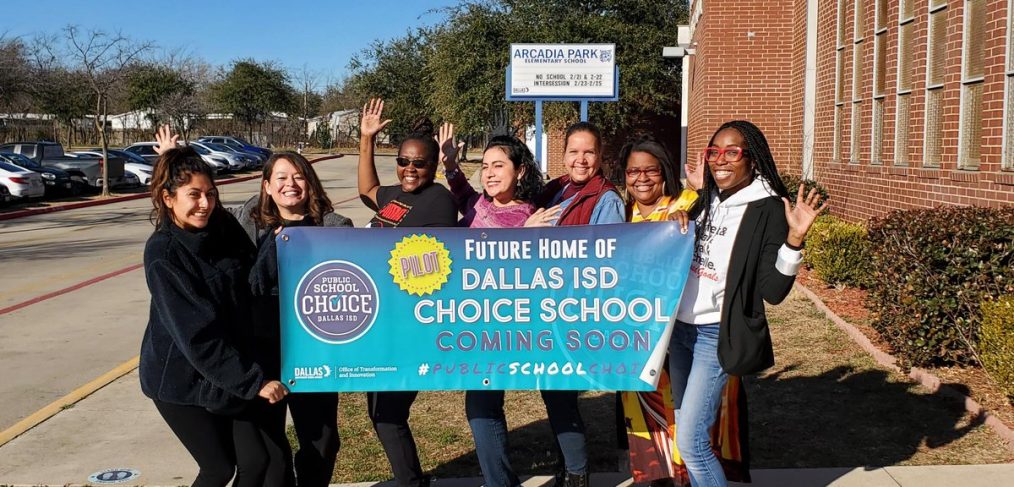 Welcome to innovation
Dallas ISD is continuing to scale innovation as it announces the launch of 13 new choice schools for next school year, bringing the number of choice schools in the district to 70.
District leaders and representatives from the Dallas ISD Office of Transformation and Innovation surprised the 13 schools with the good news on Feb. 18 and Feb. 22. Teachers and campus leaders responded with huge cheers and, in a few cases, tears of joy.
The campus leadership teams put in hours of work to go through the Public School Choice 8.0 process, where educators create high-quality, best-fit options for Dallas ISD students to realize their full academic potential.
"We are proud of these principals and schools for bringing their talent and energy into creating innovative school options in families' backyards," said Shakeatha Butler, executive director of instructional redesign and new school launch.
The 13 new choice schools and programs that will launch next school year are:
The Medical District BioMedical School is a brand-new school that will offer students a STEM program focused on Biomedical Sciences
The iLearn Virtual School will offer anytime, self-paced instruction for students in grades 3 through 9, and ultimately grades K-12
Thomas J. Rusk Middle School will pilot a leadership and career explorations model
Bayles Elementary School will launch a leadership model
Ben Milam Elementary School will launch a visible learning model
Reinhardt Elementary School will launch a personalized learning model
Edna Rowe Elementary School will launch a Montessori model
Gabe Allen Academy will launch the New Tech model
Arcadia Park Elementary School will pilot a leadership model
Urban Park Elementary School will become a STEAM school
Frank Guzick Elementary School will start on the path toward becoming an International Baccalaureate school
Boude Storey Middle School will become a STEAM school
Paul L. Dunbar Elementary School will become a STEM school
The launch of the 13 new choice schools follows the November announcement that 20 other Dallas ISD neighborhood schools would each receive $50,000 in seed money to pursue innovative ideas.