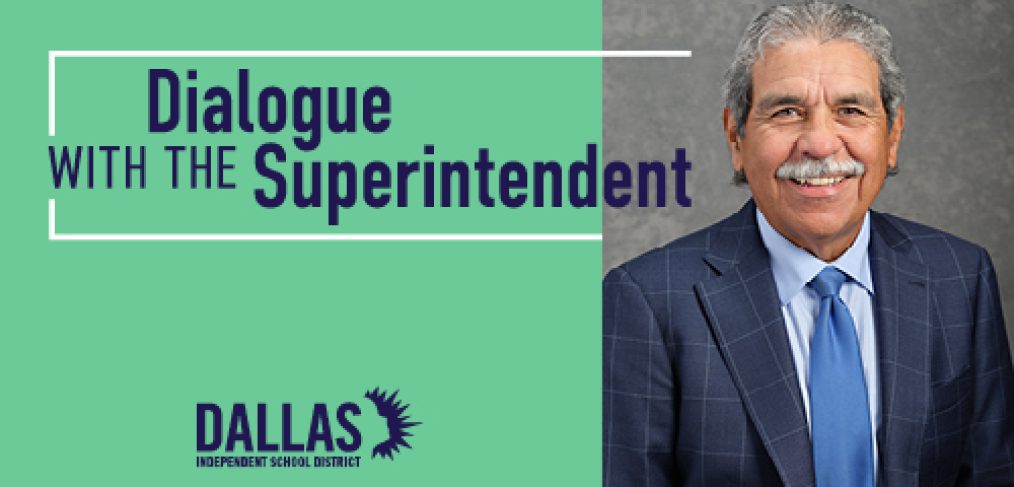 Staff can dialogue with the superintendent
After being postponed this fall due to the challenges faced by the community because of the COVID-19 pandemic, the Dialogue with the Superintendent sessions have been rescheduled to the spring. This modified schedule allows all staff, faculty, parents and community members to hear from Superintendent Michael Hinojosa in the 2021-2022 school year.
The dialogues are designed to provide staff with an overview of the district's programs and initiatives, a look at what's ahead and an opportunity to ask questions. All Dialogue with the Superintendent sessions will take place from 5 to 6 p.m. and will be followed by Community Conversations from 6:30-7:30 p.m., during which parents and the community will have a chance to hear from the superintendent and ask questions.
Date
Location
Schools invited
Jan. 18
David W. Carter High School
David W. Carter and Wilmer-Hutchins high schools feeder schools, J.P. Starks Math, Science and Technology Vanguard, Dr. Frederick D. Haynes Global Preparatory Academy at Paul Quinn College

Feb. 8
Seagoville High School
Seagoville High School and feeder school
Feb. 15
South Oak Cliff High School
South Oak Cliff and Justin F. Kimball feeder pattern schools and New Tech High School at B.F. Darrell, Barack Obama Male leadership Academy, Mark Twain School for the Talented and Gifted and Harry Stone Montessori
March 1
L.G. Pinkston High School
L.G. Pinkston and North Dallas high school feeder pattern schools and Dallas Environmental Science Academy, Jesus Moroles Expressive Arts Academy, West Dallas STEM School, Ignite Middle School,

Henry W. Longfellow Career Exploratory Academy, Montessori Academy at Onesimo Hernandez, Personalized Learning Preparatory at Sam Houston, K.B. Polk Center for Academically Talented and Gifted, Solar Preparatory School for Boys, Solar Preparatory School for Girls and Dallas Hybrid Preparatory at Stephen J. Hay

March 22
W.T. White High School
W.T. White and Thomas Jefferson high school feeder pattern schools and Prestonwood Montessori at E.D. Walker
March 23
Woodrow Wilson High School
Woodrow Wilson and Bryan Adams high school feeder pattern schools and IDEA High School and Eduardo Mata Montessori
April 5
Hillcrest High School
Hillcrest and Emmett J. Conrad high school feeder pattern schools and George Bannerman Dealey Montessori Academy, Sudie L. Williams Talented and Gifted Academy
April 6
Harold Wendell Lang Middle School
Skyline High School feeder pattern schools
April 19
Young Women's STEAM Academy at Balch Springs
W.W. Samuell and H. Grady Spruce high school feeder pattern schools and Talented and Gifted Academy at Pleasant Grove
May 4
Booker T. Washington High School for the Performing and Visual Arts
Booker T. Washington HPVA, Yvonne A. Ewell Townview Center schools, CityLab High School and Downtown Montessori School
May 11
Sunset High School
W.H. Adamson, Moisés E. Molina and Sunset high school feeder pattern schools and W.E. Greiner Exploratory Arts Academy
May 18
Franklin D. Roosevelt High School
Franklin D. Roosevelt, James Madison and Lincoln high school feeder schools and John Lewis Social Justice Academy at O.W Holmes, CityLab High School, Martin Luther King Jr. Arts Academy, and Irma Lerma Rangel Young Women Leadership School