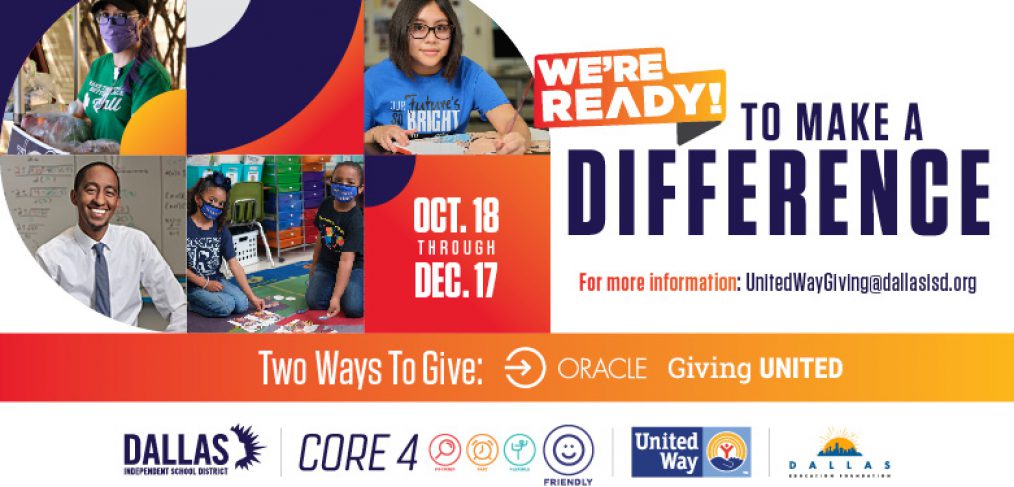 It's a time for giving
The Dallas Education Foundation is once again Dallas ISD's charity of choice for the United Way employee giving campaign, which goes through Dec. 17.
As Dallas ISD's direct, nonprofit, philanthropic partner, the Dallas Education Foundation works every day to fulfill its mission to inspire community investment to accelerate student success. Almost every dollar the foundation raises goes directly back to Dallas ISD in terms of teacher, student, and program support to propel our students further and faster.
"We are again extremely excited to be the Dallas ISD charity of choice for this year's United Employee Giving Campaign," said Mita Havlick, executive director of the Dallas Education Foundation. "We hope that everyone knows that when you donate to the Dallas Education Foundation, that's really a direct donation back to Dallas ISD."
In 2021, DEF provided over $1.1 million in grants and donations directly to Dallas ISD, including:
$188,000 in teaching and campus grants
$309,000 in student support
$577,000 in program support
$50,000 in event sponsorships
Throughout the year, DEF partners with the United Way in multiple capacities. For example, the foundation disburses the annual United Way DRIVE teaching awards to Dallas ISD recipients, and most recently, DEF played an integral role in securing an in-kind donation from the United Way to Dallas ISD Early Learning for the donation of Vooks, a streaming library of visual books for our 40,000 students in prekindergarten through second grade.
Visit www.dallasisd.org/unitedway to learn how to give to this year's fundraising drive.