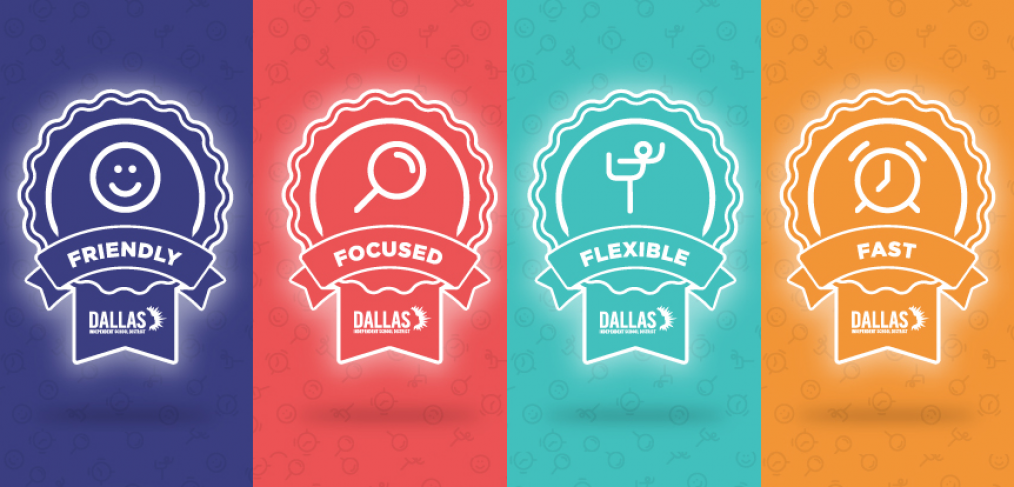 The core of Core 4
In Dallas ISD, we transform student lives, we have urgency for all, we strive for the yes, and we make memorable moments. These phrases make up the district's organizational culture and guide the everyday tasks and actions of our work.
Whether it's working with families to help them help their students be successful or assisting another department or school in resolving an issue, the district's organizational culture—based on principles of customer service—provide a guide for behavior and expectations.
When it comes to students, in Dallas ISD we believe that students thrive, and every child, family, and employee is essential. We are solely concerned with what matters most—supporting students' academic growth and overall well-being. That means communicating with parents and guardians about their students' progress and providing support for families so they can be part of the student success team.
Whether providing a safe ride to school, nutritious meals, or ensuring access to benefits, timely information and competitive compensation, in Dallas ISD, we will do whatever it takes to meet the needs of our students, families and employees,
This can be accomplished with a sense of urgency, which means that whether we work on a campus or in central administration, we are responsive, accurate and accountable to each other. We seek timely solutions for all that support the district's goals, mission and vision.
By working every day under our organizational culture to build respectful relationships grounded in professional communication, embracing the positive and expecting the best of each other, we can achieve the district's vision and mission of being a premier urban school district that educates all students for success.