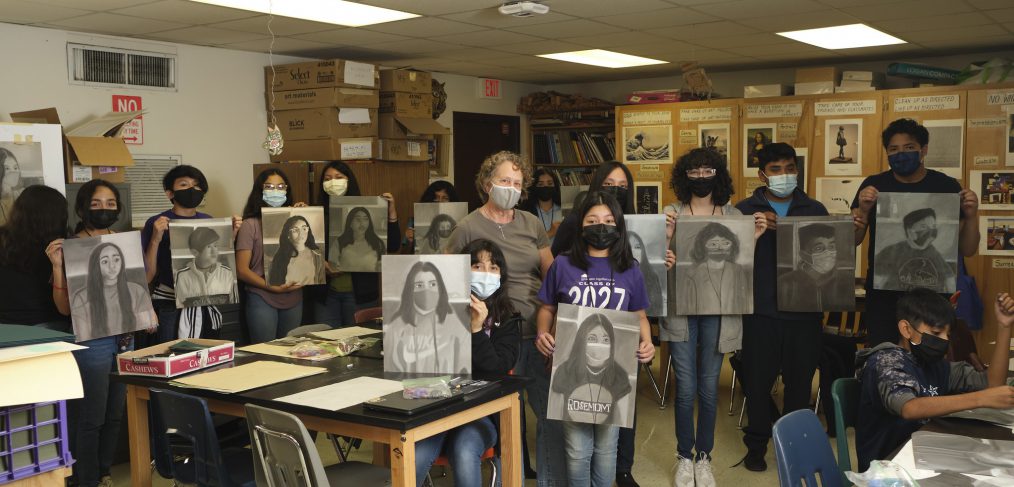 The art of teaching
Throughout her 24-year career at Rosemont Elementary School, art teacher Kellie Lawson has built invaluable partnerships with local art institutions that further her students' experience. She has even mentored a student who later became an art teacher at her own campus.
Lawson teaches every single fourth- and fifth-grade student at Rosemont Lower, and every middle school student at Rosemont Upper who chooses visual arts as an elective returns to her classroom.
"I don't think I've ever met a child who didn't love making some kind of art at some point," she said. "Art connects with every subject. Art reflects what's going on in history. Art and mathematics go hand in hand. There are so many great fields where students can use their love and knowledge of art and their artistic ability to work and do well. I really try for my students to make that connection."
For middle school, she teaches Foundations and Studio Art, where students practice various forms of art, from sketching and design projects to ceramics and sculpture. Lawson's class serves as a good foundation for students who continue working on improving their visual arts skills and fine arts in high school.
The Texas Art Education Association—an organization that focuses on promoting quality visual arts education in Texas— recently awarded Dallas ISD the TAEA District of Distinction award, which recognizes districts for outstanding leadership in promoting the arts in their district and community. Every year, Lawson's sixth- through eighth-grade students participate in the TAEA's Junior Visual Arts Scholastic Event, where students showcase and explain their work to judges and compete against other talented young artists.
"This is a tremendous recognition of the talented student and teacher artists throughout the Dallas ISD. Designation as a TAEA District of Distinction places Dallas ISD's Visual Arts program in the top 4% of school districts in the state," said Tim Linley, executive director of Academic Enrichment & Support for Dallas ISD. "Our school district is the largest one, by far, to have earned this recognition. Here in Dallas, we've always known that our student and teacher artists are simply the best. Now the rest of the state knows it, too!"
A pillar of the community
After earning a bachelor's degree in fine arts and a master's in architecture, Lawson worked as an architectural designer. In 1997, she was working part-time out of her home and was also volunteering as PTA president at Rosemont, where her two children went to school.
The Rosemont art teacher at the time had to move to another state, and the principal asked Lawson if she could sub. She decided to volunteer, and after falling in love with the job, she earned her teaching certificate and has been teaching at Rosemont ever since.
"I have students whose parents were in my art club, way back when I first started," she said. "But, by far, the most impactful moment was when a third-grade teacher who started with us last year came to visit me in my classroom when he was interviewing. I have some pictures of him when he was acting goofy, wearing a box on his head, and having fun in my art club. His students think it's so funny that, like them, he was a kid at Rosemont!"
When she first started teaching, she had the opportunity to feature her students' work at the City of Dallas Office of Cultural Affairs. From that point forward, her students' work was featured in the building every year. And when the original building changed ownership, she spoke with the managers of the Oak Cliff Cultural Center, which agreed to hold a yearly exhibit of student work.
Rosemont has also developed an important partnership with the Nasher Sculpture Center. The museum tailored a program for Lawson's students called GROW, where a group of second-grade students visit the sculpture center together, multiple times, until fifth grade.
"I live in the neighborhood," Lawson said. "I live five minutes away from Rosemont. It's my community. I've been in North Oak Cliff since 1985, and now I'm seeing this new wave of kids of my former students. It's great!"