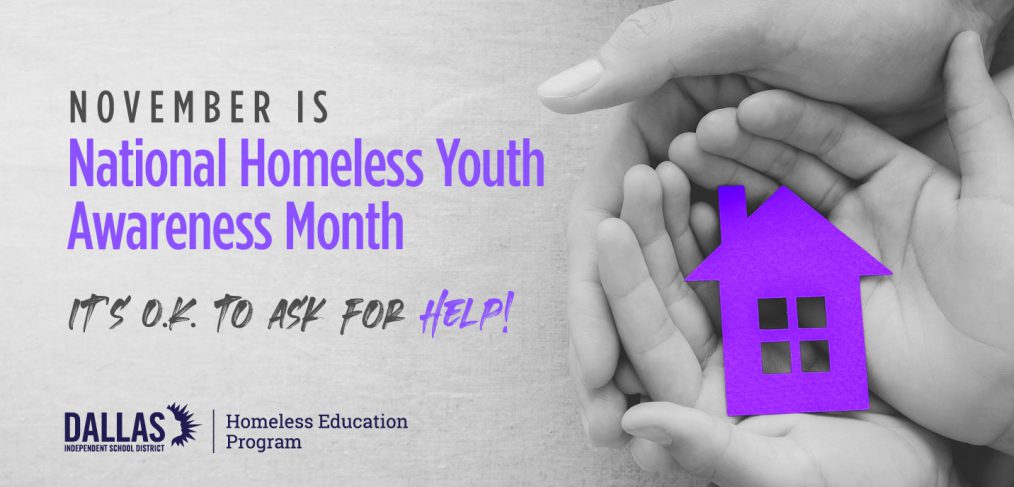 Homeless youth awareness
November is National Homeless Youth Awareness Month and district staff can learn more about the challenges faced by these students and what Dallas ISD can do to help them succeed thanks to a special training available through Cornerstone.
Homeless students often slip through the cracks and miss out on resources that could make a difference in their education. The district's Homeless Education Program wants district staff to mark the month by learning how to help identify and assist our homeless students. Learning how homelessness is defined and how to identify students who might be experiencing it is the first step to connecting them and their families with the critical help they need.
While this training is not required, the recommendation is that staff—especially those who have regular contact with students and parents—take the training to be better prepared these students. The training can be found at https://dallasisd.csod.com/ui/lms-learning-details/app/course/e9a8cf44-bc50-4906-9320-47c397d486d3.
Thanks to the McKinney-Vento Act, the district receives resources allocated to aiding students and families experiencing homelessness. Funding through the McKinney-Vento Act and the use of district resources allow the Homeless Education Program to assist students experiencing homelessness.
Please contact the Homeless Education Program (HEP) at 972-749-5750 or email us at homelesseducation@dallasisd.org.