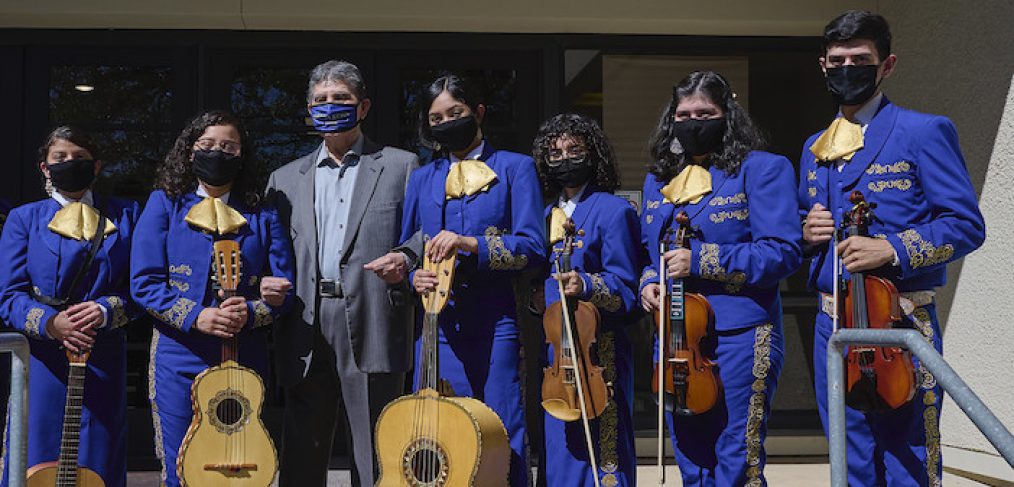 Ribbon worthy… again!
Kathlyn Joy Gilliam Collegiate Academy and Trinidad "Trini" Garza Early College High School at Mountain View have earned National Blue Ribbon School status for the second time in less than a decade.
National Blue Ribbon status is one of the highest U.S. Department of Education recognitions for campuses where students perform at very high levels or where exemplary progress is being made toward closing achievement gaps.
Both campuses are among the first Early College High Schools created by Dallas ISD. Each early college high school partners with a higher education institution to offer students the opportunity to earn credit for both high school and college courses. College tuition fees are waived, allowing students the possibility of earning an associate degree or up to 60 hours of college credit—which can be applied toward a four-year degree—upon high school graduation.
"Kathlyn Joy Gilliam Collegiate Academy and Trinidad Garza Early College High School have a history of success for all students no matter the demographics, academic background, or income status," said Cheryl Nevels, executive director of Dallas ISD's P-TECH & Early College Programs. "The goal of increasing college attendance for historically underrepresented scholars is being realized through the rigorous coursework, the culture of excellence, and the firm academic foundations these campuses are providing. Preparing scholars to achieve college and career success is second nature for these campuses. They truly believe that every child can achieve if provided the chance to do so each and every day. We are honored that two of our early colleges received national recognition, once again, for being among America's most successful schools."
The Gilliam Collegiate Academy partners with Dallas College Cedar Valley Campus to develop students from minority and low-income communities into scholars who excel at college work. The collegiate academy was able to earn National Blue Ribbon status in 2014 and again this year because of their focus on college access and success has remained unchanged since the campus opened in 2008, said Gayle Rodgers, the campus' inaugural and current principal.
Housed inside the Dallas College Mountain View Campus, Trinidad "Trini" Garza Early College High School offers a supportive academic program that blends high school and college work. Garza ECHS first earned National Blue Ribbon status in 2015 when current principal, Macario Hernandez, was an assistant principal. Hernandez said the school's biggest strength is a culture of acceptance, inclusion and unity, which hones excellence, motivation and creativity in both his students and staff.