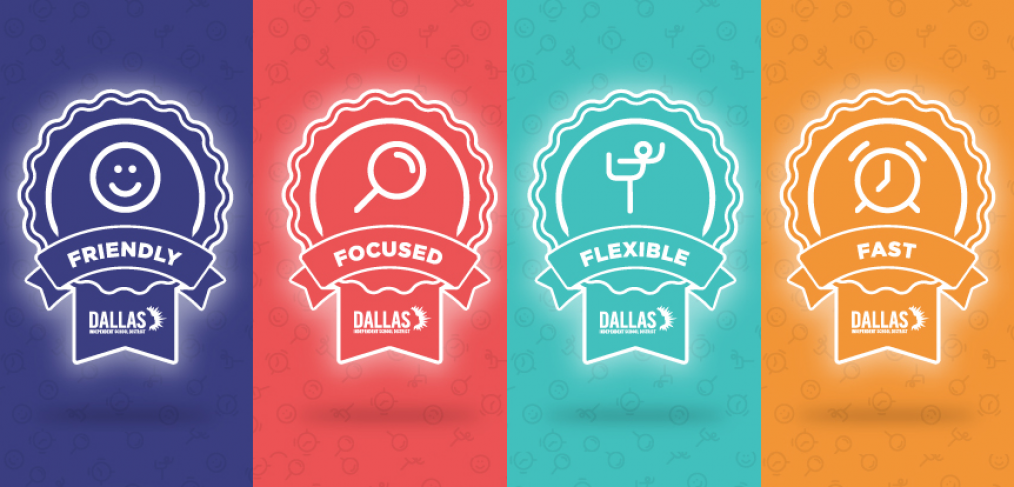 Core 4 Tip: Embrace flexibility
Who hasn't been faced with a sudden change in direction for a project or encountered an unexpected obstacle to completing a crucial task? Being flexible—striving for the yes—is key to success and also one of the core tenets of the culture that guides how we approach our work in Dallas ISD.
Flexibility is a basic component of problem solving. Whether it's finding the best way for a student to understand a lesson, helping a parent find the right resource to address a need or providing support to a campus at a crucial time, focusing on ways to fix issues by both developing solutions and helping alleviate conflict are key to successful interactions with each other, with students and with families.
In Dallas ISD, we will do whatever it takes to meet the needs of our students, families and employees. We eliminate barriers and embrace innovative problem-solving. Through the district's culture tenets, employees have the flexibility to adapt to "on-the-ground" situations and create an environment that is truly responsive to needs and creates positive experiences.
Flexibility within the district's culture tenets means:
Anticipating the needs of others and pursuing equitable solutions that are thoughtful and considerate of the feelings and perceptions of others
Collaborating and/or compromising to arrive at a common solution that is mutually understood
Consistently communicating with all involved to generate new solutions
Explaining the rationale for change and practicing sensemaking for all parties involved
Following these practices shows a desire to help and to put your knowledge, expertise, and creativity to work to create an exceptional experience for all. While the way an organization functions is framed by rules and laws, it doesn't have to lead to rigidity in how we approach solving problems and helping others. Every interaction is different. Being able to adapt, pivot, and find a solution within the rules is key to maintaining a culture that is open to innovation, equity and acceptance.