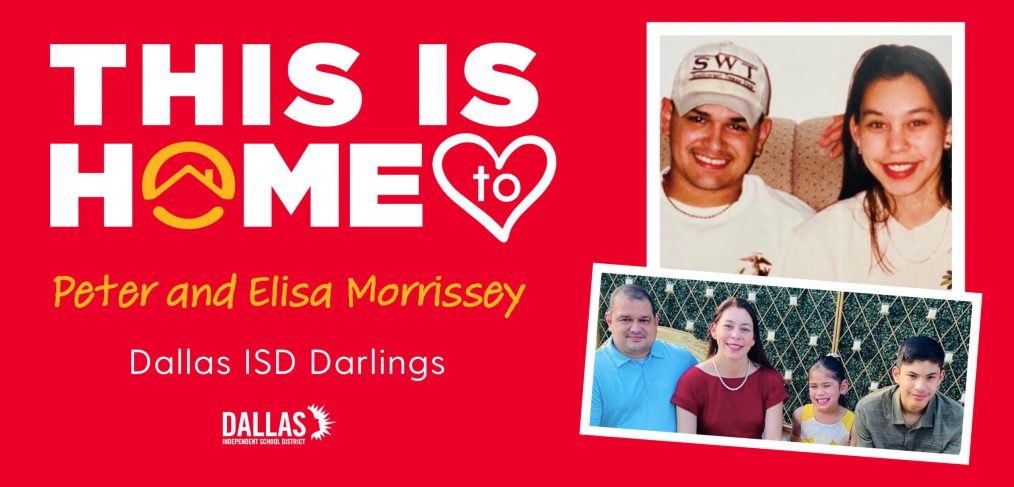 Top educators are Dallas ISD Darlings
Before they became two of the top educators in Dallas ISD who inspire students to reach their full potential, Elisa and Peter Morrissey were just two undergrads falling in love in San Marcos at Texas State University.
A chance meeting in the school's cafeteria led to some dates, a wedding, and two kids who now attend Dallas ISD schools. The Morrisseys are also possibly the first Dallas ISD married couple where each spouse has been named a top educator in the district: Elisa was named the 2018 Dallas ISD Teacher of the Year, and Peter was a finalist for 2021 Dallas ISD Teacher of the Year, both at Alex Sanger Preparatory.
"Working with students and serving in education is something we are both passionate about," said Elisa, who now works as an assistant principal at George W. Truett Elementary School. "Dallas ISD really is home for us."
Elisa graduated Texas State with a degree in Sports Medicine. She worked community health fairs and went into schools to help connect parents without insurance with healthcare. Through these health outreach efforts, Elisa felt called to become a teacher through the district's alternative certification program.  Later, she received a Masters degree in Bilingual Education at Southern Methodist University.
"I realized I could make a greater impact by working in a school and helping students break the cycle of poverty," Elisa said. "I see myself in these students and come from a similar background as many of them. This is more than a job: it's a passion."
After he graduated college, Peter went to work in the mortgage industry. A highlight of his job was volunteering at J.W. Ray Learning Center, where he used his design skills to illustrate stories written by students at the school.
Peter soon found himself spending almost every lunch break at J.W. Ray. He felt a passion he missed in his day job. Peter quit his mortgage job, became a substitute for a year, and then a full time Dallas ISD teacher
"Being able to connect with students and make a difference, there really is no other feeling like that," Peter said.
Peter and Elisa help each other in their jobs and are able to offer advice and support. But when their kids sit down at the table for dinner, they turn off their educator hat and become mom and dad again.
And while they are appreciative of the Teacher of the Year recognition, they both say that nothing beats getting to help students achieve beyond what they thought possible.
"Being educators and parents is who we are," Elisa said. "And I'm so glad we ended up meeting each other back in the Texas State cafeteria so many years ago. It's been an amazing journey."